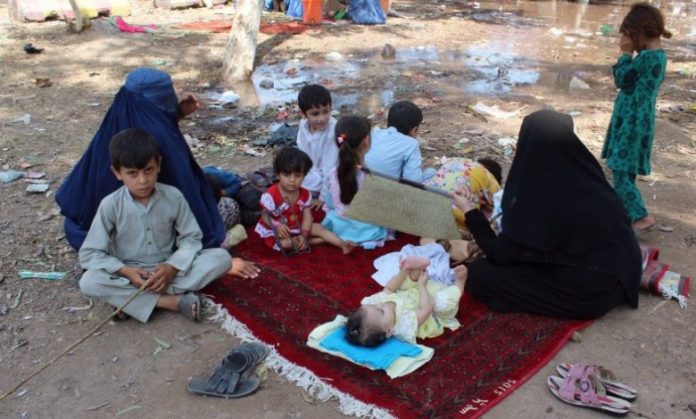 Iftikhar Khan
PESHAWAR: With the cooperation of Pakistan government, the United Nations refugee agency (UNHCR) has commenced a campaign, for the renewal of Proof of Registration (POR) cards of Afghan refugees based in Pakistan and to make identifiable through biometric verification.
But some refugees have expressed uncertainty that the female staff has not been hired for data entry and taking photographs of women, which may affect the campaign. On the other hand, the UNHCR has completely rejected the said allegations.
The UNHCR has named this renewal of paperwork as Drive (Document Renewal and Information Verification Exercise) which means the practice of renewal of documents and verification of information.
For this practice, the UNHCR has set up 40 centres all over the country with the cooperation of Nadra, Afghan Commissionerate and Saffron Ministry, among which 21 centres are set up in Khyber Pakhtunkhwa.
According to UNHCR, some of the centres have practically started the process, although the regular process of making biometric cards will likely start from April 01 and will continue for a maximum of six months.
These cards will be granted to those Afghan immigrants only who have the POR cards which got expired on December 21, 2015. Their personal interviews, photographs and fingerprints shall be taken for the new card.
Objections on the process
Some Afghan refugees have raised concerns that the staff hired for collection of data does not include female staff which has created chances of very low involvement of Afghan women in the process. In this regard, Rahim Jan, who is the president of Afghan Students Youth Researchers Association, said that he received the information about non-availability of the female staff from some UNHCR sources.
While talking to TNN, Rahim Jan said that Afghans are very strict and conservative in such matters and the majority of people won't allow male staff to take pictures of their women and have their fingerprints. Besides, Afghan women will also be unwilling to participate in such activities.
Rahim Jan said that they had to face the same issues over 10 years ago when PoR cards were made, in which women refused to let the male staff take their photographs and they had to agree upon taking their fingerprints in the picture box.
According to Rahim Jan, Afghan women don't take these cards much seriously since they don't think that these cards are of any use to them. They reckon that these cards are of more importance for men because they are often asked for cards by police and law enforcement agencies, whereas women are never asked to show such cards.
However, an Afghan teacher, Mehbooba, who is living in Peshawar, disagrees with Rahim Jan. While talking to TNN, Mehbooba said it would be a great initiative if female staff is deployed in these centres, but she does not think that women would hesitate much about letting men take their pictures and fingerprints. "Everyone has to meet the legal requirements no matter what the circumstances are," she said.
According to Mehbooba, there are no female staff in the PoR card centres for refugees, yet most Afghan women go there for data entry and editing purposes.
On the other hand, the UNHCR spokesman Qaisar Khan Afridi also termed concerns regarding male staff as baseless and assured that female staff would be available for the women visiting the centres set up by Nadra.
Benefits of biometric cards
Biometric cards will be issued to almost 1.4 million Afghan refugees residing in Pakistan, which will provide the government of Pakistan and UNHCR reliable data on the identities of these refugees, promising them health, education and cash assistance in case of voluntary return to Afghanistan.
Mehbooba also termed the process of renewal of cards and issuance of biometric cards as a positive step and said that it will generate a feeling of security in Afghan refugees.
"The current PoR cards expired in December 2015 which got extended further by the government of Pakistan for either six months or one-year making Afghan refugees believe that sooner or later they would be asked to leave the country. Now that biometric cards are being made, which guarantees that the government of Pakistan does not intend to make them leave the country abruptly, it is quite satisfactory for us," said the Afghan woman.
Peshawar-based journalist Anwar Zeb also considered the issuance of biometric cards for Afghan refugees as a need of time, saying it would not only eliminate the fake cards but the fact that the government of Pakistan has now allowed refugees to make their bank accounts, now with the renewal of cards, immigrants can make the best out of this option in no time.
Document verification and the procedure biometric card
According to UNHCR, those refugees who hold PoR cards would be asked to come to the Drive centres. In the verification and renewal of documents, the registration of children under the age of five will also be carried out who were not registered previously.
Besides, records of other unregistered PoR cardholders who have not been issued cards will also be recorded. Such members of the family include son, daughter, spouse and parents. Moreover, they won't get a separate biometric card, they will just get recorded.
According to UNHCR, the verification and renewal of documents will take place in three steps.
In the first phase, the PoR cardholder would need to make an appointment via telephone, from the nearest centre. From March 15, the contact numbers of these centres have been issued and after calling them everybody will be given the date and time of their arrival to the centre, through an SMS.
In this regard, the UNHCR has issued a clarification that the campaign is not for Afghan Citizen Card (ACC), so they should not make an appointment for coming to the centre.
In the second phase, the PoR cardholder Afghan refugees and all their family members should visit the allotted centre where their personal interviews, photographs and fingerprints would be taken.
In the third phase, new biometric cards will be issued to the refugees after interviews, followed up by a few weeks of necessary procedures. A few weeks after the interviews, the Afghan refugees can find out about the status of their new cards by sending their PoR number through an SMS to 8400, to make sure either it has reached the centre or not.
The UNHCR has also made it clear that those PoR holder refugees who don't participate in this exercise, their cards would be considered expired at the end of the process. After this, they might not get the UNHCR fixed cash for health and education facilities on voluntary return. In addition to that, their movement in Pakistan may also be restricted.
Can 1.4 million people get cards within 6 months?
In the light of the guidelines issued by UNHCR, the practice of verification and renewal of documents will take about six months, while according to the proposed documents on the budget and other matters, the entire project might take up to one year, which started from January 1, 2021, and will continue till December, 2021.
According to documents, up to 8,000 documents will get verified on a daily basis.
The project cost
According to the documents of UNHCR, around $96.6 million are required for the completion of this project. And also, an amount of $44 million will be required on the project scheme, including software development and the cost of cards preparation.
Hits: 0