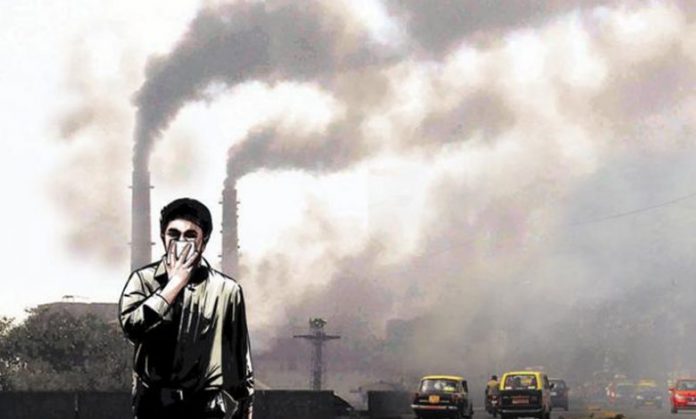 Rifaqatullah Razarwal
PESHAWAR: The World Air Quality Index, which evaluates the air quality according to international standards, said in a recent report that every year around 20 percent of people lose their lives due to air pollution.
The report reviews the year 2020, according to which people tend to suffer from different diseases due to air pollution, the main reasons of which is vehicle emissions and road dust, domestic biomass burning, industrial activity, especially steel mills, agricultural burning, and garbage burning. The report examined the air quality of 106 countries, according to which, Bangladesh ranked on top in air pollution, while India ranked third, and Pakistan stood on 17th number in terms of air pollution.
Opinion of health experts
While referring to the polluted air, District Headquarters Hospital's Medical Superintendent Dr Ashfaq told TNN that it causes lung and skin cancer as well as other diseases such as asthma, pneumonia, chest infection and bronchitis.
According to Dr Ashfaq, people who are already allergic to smoke or pollution are more likely to die from air pollution. He said that in order to prevent air pollution, we must adopt environmental protection methods and various scientific measures as well.
Which air index is great for health?
According to World Air Quality report, Islamabad has been declared as the cleanest area of Pakistan in terms of clean air, with an air quality index of 110. Lahore was declared the most polluted city with its air quality index being 163.
According to experts, due to negligence in the implementation of air pollution control laws and lack of public awareness, pollution is prevailing more and more at the regional and rural levels.
Professor Hizbullah, Chairman of the Department of Environmental Sciences at the University of Peshawar, said that the air quality index is not permanent; it varies with time. He told TNN that Peshawar's regional air quality index is 153.
"It means that according to the recorded index the quality of air is unhealthy because of which chances are high that people who are already unwell can suffer more," he said.
About the air quality index, Dr Hizbullah said the air quality range from 1-50 is ideal, 51-100 is mediocre, 101-150 is dangerous for physically sensitive people, 151-200 is non-healthy and 201-250 is dangerous. He said it is true that every year around 20 percent people in Pakistan die due to polluted air. According to him, the rate of toxic air in Pakistan is very low but sand, the smoke of old vehicles and pollen grains contribute to air pollution.
The environment expert suggested that the government must plant trees that reduce the rate of pollen emissions. He said that in the 1960s the government had planted wild mulberry trees in the major cities of the country, which tend to grow quickly and because of which pollen particles get spread in the environment, the eradication of which has now become very troublesome. He said that in 2000, on an international level, all car companies were made to install a catalytic inverter device in the silencer of each vehicle, which turns the toxic gases, through a chemical reaction, into environmental friendly gases. But unfortunately, those rules are not being followed in Pakistan.
KP govt's position on the report
The KP Environment Committee Chairman Shafiq Afridi said he had issued instructions to industries to make filtration plants for the emission of smoke and fumes. He said that in Hayatabad industrial estate, 60 factories were sealed for 2-3 weeks for not following SOPs and some industrial owners sought time as their business was affected by coronavirus lockdown. They also made an assurance that the filtration plants will be installed within two weeks.
"There is no reason of continuing industrial activities in residential areas, while the issuance of NOCs (no-objection certificates) has also been banned for setting up industries in these areas.
Afridi added that currently there are 120 functional factories in the province and the majority of these are following the SOPs. But the provincial government intends to bring a European-style, environmental-friendly system that would help reduce air pollution.
Hits: 15