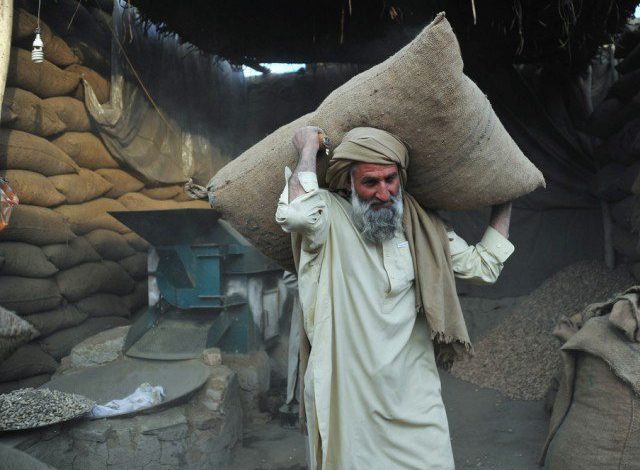 Kaif Afridi
PESHAWAR: In the present era, it has become difficult for a labourer to earn livelihood as remuneration is received after difficulty and there are very few people who give due reward to labourers for their work and they also face harsh attitudes during their work.
May 01 is observed as International Workers Day or Labour Day throughout the world, but labourers continue to work hard even on this day and many of them even remain unaware about this day as they are preoccupied with the responsibility of feeding their poor families by continuing to work tirelessly.
Seminars and functions are organised in small and big cities of the country in connection with the Labour Day with an aim to bring an end to anti-labour laws, system of contractors, improve wages of workers and highlight their problems and create awareness in this regard. But most of the times, the real working class remains unaware about such functions, and labourers are seen at different corridors and roads searching for work even on this day. They do so because they know they would not be able to feed their families if they did not work even for a single day.
Founder of Pakistan Quaid-e-Azam Muhammad Ali Jinnah had said in one of his speeches that Pakistan cannot progress without prosperity of labourers. Pakistan started observing Labour Day officially during the era of former prime minister Zulfikar Ali Bhutto in 1973.
The problems of labour class increased manifold after the outbreak of coronavirus last year and now the third wave of the pandemic in Pakistan is again affecting the workers badly. With the onset of morning, a large number of labourers come to different bazaars of Peshawar in a hope of getting some work, but there are very few employers as coronavirus has reduced the spending power of people. There is complete lockdown on Saturdays and Sundays and work hours have been reduced during weekdays, which has affected the working class badly.
The labourers say they totally agree that precaution is the best answer to corona pandemic, but what will they do to feed their children?
The daily wage of a labourer in Peshawar is around Rs600. Now the question rises who can a person meet all expenses of his family with just Rs600 in the era of unprecedented inflation. Arranging food, utility bills, education fee of children and medical expenses etc. for a labourer is a huge challenge with a meagre income.
The condition of labourers in our country can be improved with increasing their wages and make arrangements for their families education, healthcare, housing and jobs. The labourers must also show unity and set up a strong federation for protection of their rights.
Hits: 1