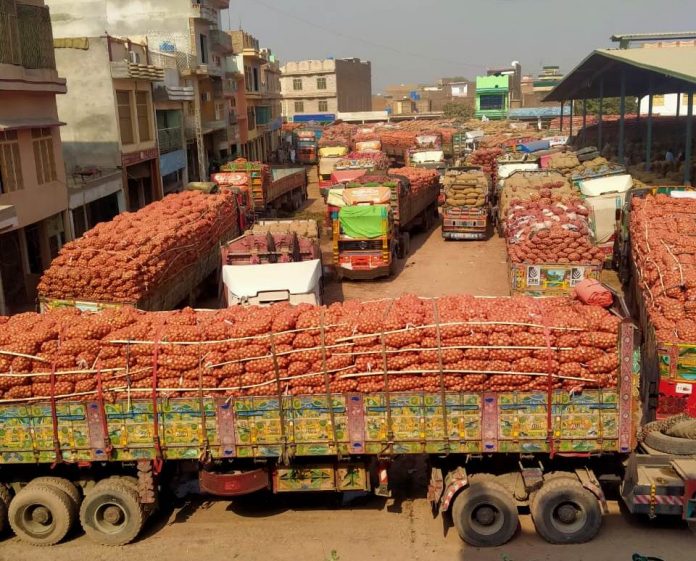 Mehrab Afridi
BARA: Yar Gul's business of goods' transport incurs huge losses whenever the Pak-Afghan Torkham border is closed. The crossing is often closed for vehicular traffic as well as pedestrians' movement when there is a security issue or some kind of skirmishes between the border forces of the two neighboring countries.
But this time, the situation was a bit different. The Torkham border remained closed for about three months for vehicular and pedestrian movement due to the travel restrictions imposed by the government of Pakistan in March to prevent the spread of the coronavirus pandemic.
The border's closure rendered thousands of people including laborers, daily wagers, transporters and traders jobless. The travel restrictions had badly impacted bilateral trade between the two countries. Hundreds of trucks loaded with fruits, vegetables and other perishable items were stranded on both sides of the border as drivers of both the countries were barred from crossing the border point and instead, they were allowed to hand over their vehicles to local drivers upon their reaching to the Torkham border.
"Those were the toughest days of my life," Gul, who hails from Afghanistan's Nangarhar province, remarks while talking to TNN. "We were not allowed to enter Pakistan despite having valid travel documents. We had no option but to hand over our vehicles to Pakistani drivers. The restrictions not only affected our businesses, it also caused damages to our vehicles as these were driven by unskilled drivers," he continues.
Apart from transporters, people involved in the businesses of perishable items such as fresh vegetables and fruits, are the most affected ones as they suffered financial losses because of the closure of the border.
Malik Sohni, president of the vegetable market association in Peshawar, says that the business community on both sides of the border suffered billions of rupees losses due to the closure of the border.
According to official sources, more than 10,000 pedestrians and up to 1000 vehicles loaded with different merchandise, cross the Torkham border on a daily basis.
A customs clearing agent Azhar Ali says that tens of thousands of people earn livelihoods from the bilateral trade and if the border is closed again due to the second wave of the coronavirus pandemic, it will render thousands of people jobless.
"I wish the border is never closed again but I fear the government may take the extreme step as coronavirus cases are again surfacing in a large number," an anxious Ali remarks. He, however, says that things have improved to a great extent and the traders have come out of the depression.
Like Ali, skepticism still exists in the minds of many people and they fear that another travel restriction will further devastate their businesses. "We fear that if the border is closed again, it will inflict huge financial losses on us," a fruit and vegetable trader says.