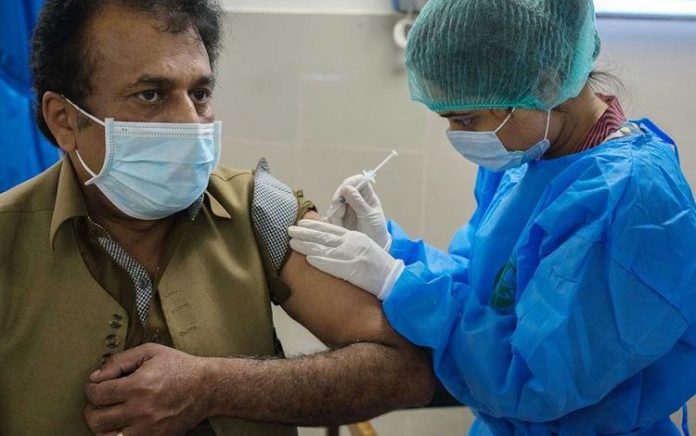 Saman Khalil
PESHAWAR: The process of corona vaccination is continuing in all parts of the country including Khyber Pakhtunkhwa, but some people are reluctant to get vaccinated for the fear of side effects.
Muhammad Arif, a 70-year-old resident of Peshawar, said while talking to TNN that he is not undergoing vaccination as he is not sure it is genuine or not. He said he has heard that the vaccine is effective some times, while sometimes it doesn't work. He said he has also recovered from corona after being affected for a month, but he is still reluctant to undergo vaccination as he fear it might affect other parts of his body.
Like Arif, Muhammad Adeel is also not willing to undergo vaccination. He said he has seen that some people still contract the disease after undergoing vaccination.
"I saw and elderly person whose condition deteriorated after vaccination and decided that I won't go for it," he told TNN.
Thirty-year-old Maryam said she has heard that vaccination causes problems in pregnancy. She says she has heard that unwanted hair and pimples grow on face and hands of pregnant women with corona vaccination. She said she don't want to rise her and her coming child's life.
Dr Zubair, who is involved in treatment of corona patients in Lady Reading Hospital Peshawar, said about 10,000 people have undergone vaccination at the largest public sector hospital of KP. He said no side effects have been seen after vaccination and all such things are spread by people unnecessarily. He said awareness needs to be created among the people about it.
Dr Zubair said coronavirus is spreading rapidly in the world and there are only two ways to avoid it – precaution and vaccination. He said research is being conducted on whether the vaccine can protect the human body against coronavirus for a long time or not. He said many vaccines have arrived and the Pakistan government has approved three of them which develop immunity for a long time. He said we would know only after a year or two whether the available vaccine is good for extended time or not. He said if someone has undergone other vaccination, then they must wait for two weeks for corona vaccination.
Hits: 1