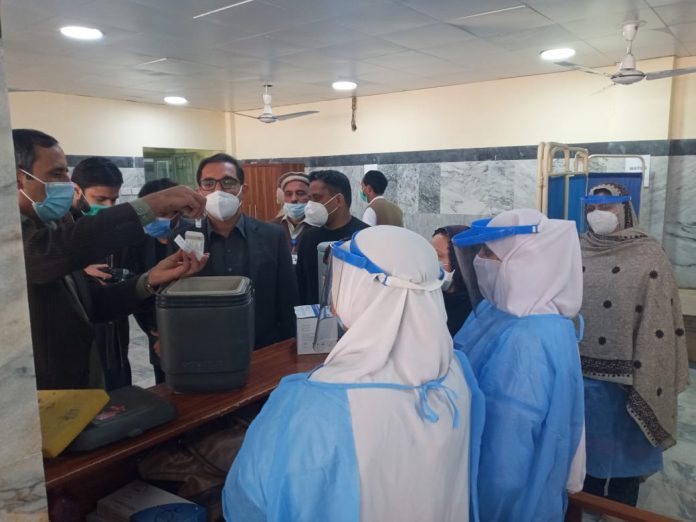 Khalida Niaz
PESHAWAR: With the arrival of coronavirus vaccine, new rumours are also surfacing in the world, particularly in the Muslim world.
Pakistan never lags behind in such rumours, and in Khyber Pakhtunkhwa, some rumours are so ridiculous that test the patience of those who hear about it.
While some people consider coronavirus vaccine a product prepared from the fat of pig and even are not prepared to touch it, while some go to the extent of believing that the women administering the vaccine will experience growth of moustaches and men would have a tail.
'Women may lose fertility'
Due to lack of awareness, uneducated people soon start believing in rumours, and even some educated people also sometimes indulge in such things.
Aneela Nayab, a private school teacher in Peshawar, says she is willing to vaccinate herself against coronavirus which is a very dangerous disease, but she has also heard about rumours, which has brought mental discomfort.
"I have heard that the vaccine will cause growth of unwanted hair on face and body of girls and would also render them incapable of giving birth to children. Now I a bit concerned about possible unforeseen side-effects of the vaccine," she told TNN.
Vaccination only after surety about safety
Although corona vaccination started in Pakistan on Wednesday with 40,000 frontline healthcare professionals getting the first priority, Saira, an NGO worker in Peshawar, is also confronted by cognitive dissonance over the issue.
Saira says no research has been conducted about the utility of the vaccine and possible side-effects are unknown.
"I would only go for the vaccine after 100 percent surety that it is totally safe. This vaccine has arrived from abroad, and when a lot of Pakistanis will get it, then the decision for the rest of people will become easier," she said, adding that at present, enough doubt exists about the safety of the vaccine.
Govt says vaccine is safe
Special Assistant to Prime Minister on Health Dr Faisal Sultan says technically about 100 million people can get vaccine in Pakistan, and frontline health workers will get it on priority basis. He said the 500,000 vaccine dozes available in the first batch will only be available for registered persons.
Dr Faisal Sultan said Sinopharm vaccine is safe and is 86 percent effective.
Many people still don't believe in corona
The awareness level about coronavirus in Bajaur tribal district is even lower as compared to the rest of the country and many people still don't even believe in the existence of the pandemic.
Ubaidullah, a social activist from Bajaur, says most people in the area don't believe in the existence of the disease, and therefore, they would not get the vaccine. He said his uncle had symptoms of corona, but he was unwilling to go to hospital for test because he believed he may never return from there.
State may use its power to vaccinate people
Ubaidullah says many people in tribal districts are still not willing to vaccinate their children against polio, but had to do so due to fear of action by the government.
He said the government may also adopt similar strategy for corona vaccine by declaring it mandatory for all people. He said some people may get free vaccine, but no one would buy it.
A woman, Quratul Ain Niazi says the vaccine has been prepared with a good intention to save people from the disease. She says the vaccine goes through all standard tests before going to market, therefore, the concerns about safety are misplaced. She says the rumours about vaccine are absurd as no such thing has been reported by any person from any part of the world.
No truth in rumours
An official of KP Health Department told TNN that there is no truth in rumours about corona vaccine. He said side-effects cannot be ruled out as the vaccine has arrived in Pakistan first time and things will improve with research. He said every vaccine has its side-effects, and same may happen with corona vaccine. He said the government has decided to keep people undergoing vaccination under observation for at least 30 minutes. He said it would be premature to say anything conclusively about the side-effects at this moment.