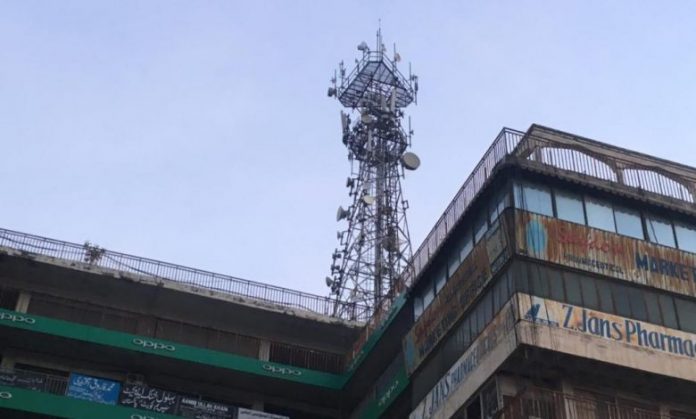 Muhammad Tayyeb
PESHAWAR: Mobile towers, which have been installed in Peshawar and other cities of Khyber Pakhtunkhwa, have become a cause of danger for the residents due to its potential of spreading dangerous diseases.
Mobile towers remain installed in all big cities despite an order from the Peshawar High Court (PHC) regarding removal of these towers from urban residential areas. The civil administration appears to be helpless in this regard as people have not seen even a single mobile tower removed from city areas in the entire KP. Hundreds of mobile towers have been installed in residential areas of almost all cities in KP, but no one seems to be interested in taking action against them.
According to Environmental Protection Agency (EPA) data, about 366 mobile towers of private cellular companies have been installed in different parts of KP, out of which 195 have been installed in residential areas, 46 in schools, and 55 are installed near mosques. As many as 20 mobile towers have been identified, which are dangerous and not according to international standards, but no action is taken to remove these towers.
Official sources said there are many towers in city areas which were installed before 2009. Safety measures were not properly adopted before installation of these mobile towers and these are now a cause of concern for people living near these towers.
Senior PHC lawyer Saifullah Mohib Kakakhel said that under international rules, mobile towers must be installed at a distance from residential areas, mosques and schools etc. He said the EPA has already issued guidelines about installation of mobile towers to all private cellular companies.
Children Specialist Dr Khalid said the dangerous radiations from mobile towers may pose dangers to human health. He said these towers may cause cancer, skin and other diseases to people who live near it. He said mobile towers are installed far from residential areas to keep the people safe, but it is not the case in Pakistan.
The PHC has issued clear orders to remove substandard mobile towers from residential areas, but no action has been taken by the government, which has created concerns among the people.
Hits: 0