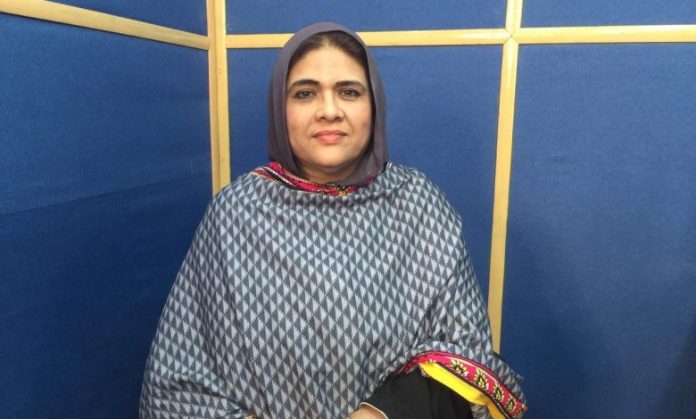 Khalida Niaz
PESHAWAR: District Education Officer (Female) Samina Ghani says she can't give proper time to her children due to her due to her job responsibilities, but still she is satisfied that she is working for bright future of the country's girls.
Samina Ghani says she still manages to give some time to her children, but due to increasing job responsibilities she often feels that she is not giving enough time to her children. Her family originally belongs to Swabi, but she was born and educated in Peshawar. She completed her graduation from Jinnah College for Women Peshawar and Master's from the University of Peshawar. She has also got professional degrees of B.Ed and M.Ed.
Support from husband
Samina Ghani said in an interview with TNN that she was in the field of education even before her marriage, but her husband's support was pivotal in reaching to the positon of DEO. She says when the vacancy was available, her husband advised her to apply for the post of DEO as he was confident of her success.
"My husband still supports me a lot and handles many domestic matters, while I am focusing on my job responsibilities," she said.
Samina Ghani says the main challenge for a DEO is to improve the results of government schools. She says most students in government schools come from weak financial background and although they receive lessons at school, but many of them don't concentrate on studies at home. In such cases, she says, the families of these students are more focused on earning livelihood than focusing on academic progress.
Can't spend much time with children
Samina Ghani says her children are not too demanding like children of housewives. She says her children were too young when she started work as DEO in different districts which created a distance between her and her children.
"I served in different districts and my children were in Peshawar and we missed each other a lot during that times," she said.
The DEO Peshawar says she regularly visits far off areas of the district for bringing improvement in the condition of schools. She says she monitors the situation of facilities at schools and tries to provide all missing facilities.
How a woman can reach high official position?
Samina Ghani says precious time of students was wasted during coronavirus lockdowns. She says double classes have been arranged for the ninth and 10th grade students to make up for the lost time. She says the academic session has been extended to April which would help prepare the students for exams.
The DEO says generally people consider women suitable for teaching-related jobs, but some negative perceptions still prevail in our society.
"Some elements are so envious that they wonder how a woman can reach a high official positon. When we get appreciation for our good work in field, that is also hard to swallow for people having stereotypical mindset," she said.
Samina Ghani says awareness level of people about girls education has improved considerably, but still a lot of work needs to be done.
"There are still some far off areas in Peshawar where people show less interest in girls' education and marry them off as soon as they complete primary education," she said.
She appealed to the people to educate their girls as it is impossible to create a healthy and educated society without an educated mother.
Hits: 60