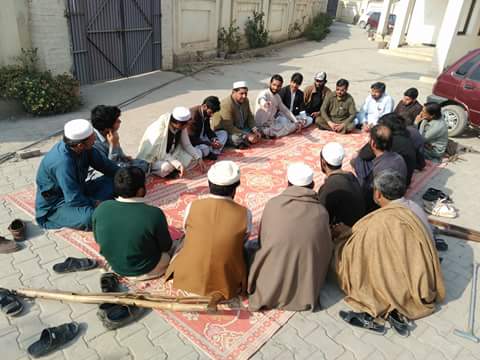 Muhammad Zahid
LANDIKOTAL: Thirty-year-old Hazratullah from Jamrud tehsil of Khyber tribal district established Khyber Special Welfare Organisation in 2016 to bring all differently-abled persons on single platform and try to find solutions to their problems.
Hazratullah says the organisation gets its office-bearers every year. Hazratullah told TNN that over 3,000 differently-abled persons from different age groups, including women, are registered with his organisation in Jamrud.
Hazratullah says the differently-abled persons are facing a lot of difficulties due to lack of facilities, and the government and non-governmental organisations have not taken considerable steps for their welfare. He says the announcements about welfare of differently-abled persons are confined to papers only.
"Disability has become a nuisance for differently-abled persons in Khyber district as they are deprived of facilities of healthcare, education, employment, scholarships etc," he said.
Hazratullah, who has disability in his left leg, says being president of his organisation, he has raised voice for the rights of differently-abled persons at every platform, but without much success. He says his organisation has made disability certificates for 22 persons during the last five years.
Gul Askar Afridi, 45, who is a newspaper hawker in Jamrud, says he is sole breadwinner for his family and he cannot do any other job because of disability. He says his difficulties can reduce somewhat if the government provides him monthly scholarship.
The differently-abled persons in Khyber district say they are yet to receive attention from the government which they deserve. They say their life is difficult due to physical disability and people call them with different derogatory names, which is like rubbing salt to their wounds. They have demanded the government to set up sewing centre, educational institutions, and provide best medical facilities, wheelchairs, monthly scholarships, jobs, special concession in transport fares and other facilities to make their life easier.
The Social Welfare Department office, when contacted, told that 6,633 differently-abled people are registered with it in Khyber district. It says handicrafts centre has been set up for differently-abled persons where 50 people are given training at one time and they are also provided sewing kits after completion of training. It said Rs20,000 each were distributed among 30 differently-abled persons, and they were also provided tricycles, wheelchairs and sewing machines from the last years development funds. It said a school for visually-impaired persons will be opened in Bara soon where they would get free of cost education.
Hits: 1