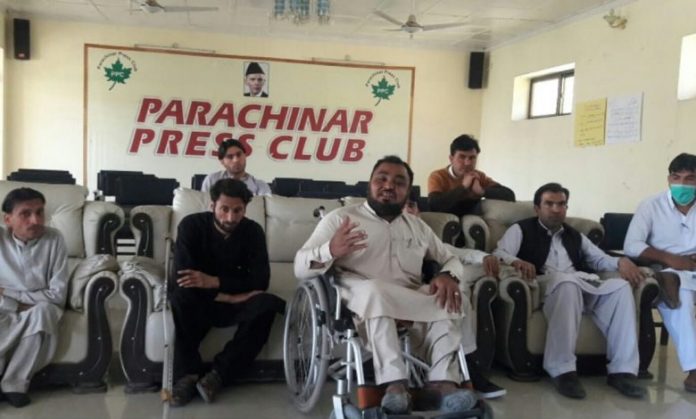 PARACHINAR: The differently-abled persons of Kurram tribal district have said they have been denied the opportunity of appointment on government jobs against the special quota despite acquiring higher education.
The leaders of Kurram Disabled Persons Union Muhammad Anwar Shah, Aqil Hussain, Mira Jan, Saifullah, Imran Ali, Zahidur Rehman and others said while addressing a press conference at Parachinar Press Club on Thursday that differently-abled persons are not being appointed against their quota in Education, Health, Agriculture and other departments which has pushed them into inferiority complex and added to their sense of deprivation.
They said every advertisement for employment carries 2 percent quota for differently-abled persons. He said no one listens to demands of differently-abled persons and they remain deprived of their rights. They said due to lack of job opportunities, ratio of jobless differently-abled persons is increasing with the passage of time, while no one takes notice of this grim situation.
The leaders of differently-abled persons also demanded the government to give special age-relaxation to them. They complained that they return empty-handed from most of the government departments most of the times. They said the chief minister has increased the job quota of differently-abled persons from 2 percent to 4 percent, but even the chief minister's directives are not being implemented.
The differently-abled persons demanded implementation of the chief minister's quota and provision of free of cost education to differently-abled children.
Earlier, the differently-abled persons in Khyber district said they are yet to receive attention from the government which they deserve. They said their life is difficult due to physical disability and people call them with different derogatory names, which is like rubbing salt to their wounds. They demanded the government to set up sewing centre, educational institutions, and provide best medical facilities, wheelchairs, monthly scholarships, jobs, special concession in transport fares and other facilities to make their life easier.
The Social Welfare Department office told that 6,633 differently-abled people are registered with it in Khyber district. It said handicrafts centre has been set up for differently-abled persons where 50 people are given training at one time and they are also provided sewing kits after completion of training.
Hits: 1