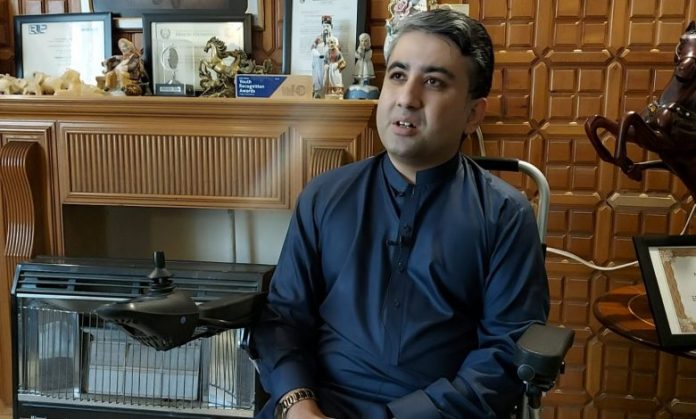 Shahzeb Afridi
PESHAWAR: If a person doesn't lose courage and continues following his dreams then disability doesn't come in his way.
This is what Muhammad Amar Khan believes after achieving so much despite having disability in both his feet. The title of PSL Heroes by the Pakistan Cricket Board (PCB) and appointment as youth governor came as a special honours for him.
Amar Khan, who hails from Malakand district, said he was considered to be a person dependent on others since his birth, but his parents were different from others, who treated him like a normal person and did not let him feel any shortcoming.
"My parents brought me up like a normal child despite the fact that it was not easy for them. They got me admission in a school in Hayatabad, Peshawar, and provided me all the facilities. I attended Edwardes College Peshawar for F.Sc, and then got BS Honours degree from the University of Peshawar in Bio-Technology. Then I passed the Human Resource (HR) exam from IM Studies Institute," he told TNN.
Amar Khan then did MBA and started a job at Rehman Medical Institute (RMI) and worked there for seven years, after which he is now serving at Khyber Teaching Hospital (KTH). He said he managed to reach this far due to support of his parents and encouragement by friends. He said he got the title of PSL Heroes due to his social activities.
Amar Khan said he attended the Youth Parliament and started Iftar parties awareness campaign along with other friends. He said he got the PSL Heroes and other honours due to his social efforts after which he thought he should also work for other differently-abled persons. In this regard, he said he worked with Special Life Foundation and worked for differently-abled persons and arranged awareness campaigns.
"If a person counters his own internal fears then no force in world can stop him," he said.
Amar Khan said one can easily judge a person's mental toughness with his thinking. He said he believes that there is not even a single task in the world that he can't accomplish. That's the thing which drives Amar Khan forward and keeps him motivated.
He said differently-abled persons have got a lot of privileges from the government. However, he feels that their accessibility to different places must be facilitated and they must also get special seats in the legislative assemblies.