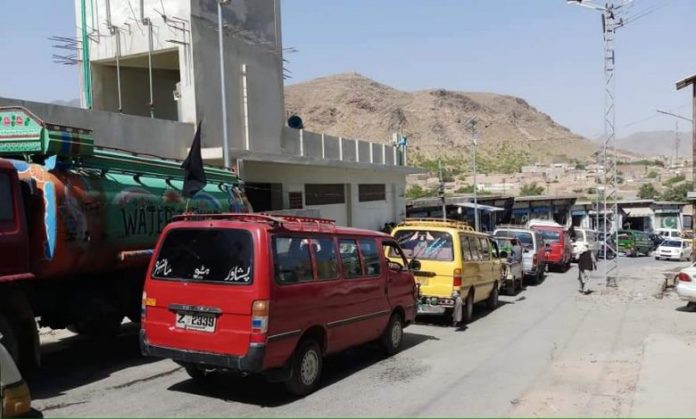 LANDIKOTAL: The flying coach drivers in Landikotal Bazaar of Khyber tribal district on Tuesday held a rally for reopening of Torkham border for pedestrians.
Participating of the rally were carrying black flags on their vehicles to record their protest against restrictions of movement on the border. The drivers called upon the government to reopen the border for pedestrians immediately so that the labourers, transporters and drivers could regain their lost jobs. They said the working class is facing a lot of difficulties due to closure of the border and their source of income has been snatched due to which they are facing difficulties.
Farman Shinwari from the labour union, president of youth union Israr and taxi drivers said during the rally that their protest would continue till reopening of the border. They said they would intensify their protest if the government did not accept their demands.
The drivers appealed to the local people to participate in their protest to compel the government to accept their demands. They said the livelihood of a large number of workers depends upon the Torkham border, and its closure has brought countless miseries for them, and they are unable to feed their families. They assured that they would fully observe all kinds of standard operating procedures (SOPs) at the border and fully cooperate with the administration after opening of the border.
An official notification last week said the Pak-Afghan border in Torkham will remain closed for pedestrians till further orders.
The decision was taken under the light of the decisions of the National Command and Operation Centre (NCOC) which discussed the border situation with Afghanistan. The notification said the border will remain closed for pedestrians owing to the increasing ratio of coronavirus cases in neighbouring Afghanistan.
The Pakistani citizens stranded in Afghanistan may come back to Pakistan under the SOPs. Critical patients from Afghanistan wishing to come for treatment to Pakistan will also be exempted from the ban.
The notification further said that the Afghan citizens stranded in Pakistan may go to Afghanistan if they want. The cargo and trade vehicles from both sides are allowed to cross the border.
Hits: 1