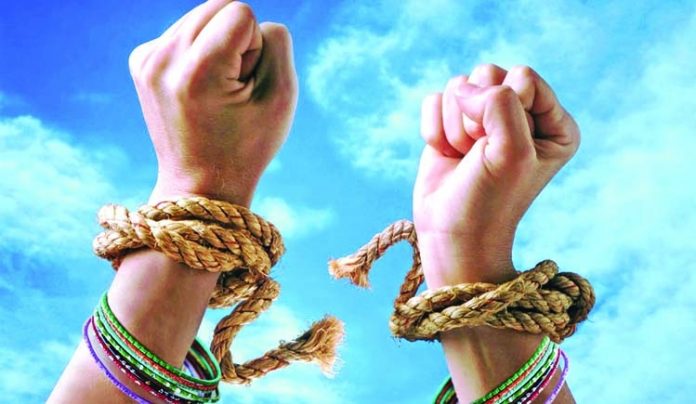 Hammad Alam
PESHAWAR: Progress of a nation is impossible without educated mothers. "If women of my country are not educated, about half of the people will be ignorant." this was the opinion of Napoleon Bonaparte about women's education.
Education is the fundamental right of everyone and when we say everyone we should not forget that not only men but women also are part of it. Education makes us able of acquiring new skills and to communicate with others in a civilised way. Education is the fundamental right of everyone, hence while giving education facilities, we must not discriminate on the basis of gender.
Education for women is of great importance. Unfortunately, majority of girls are out of schools. According to UNESCO estimates, around the world, 132 million girls are out of school, including 34.3 million of primary school age, 30 million of lower secondary school age, and 67.4 million of higher secondary school age group.
In countries affected by conflicts, girls are more than twice likely to be out of school than girls living in non-conflict countries. The primary school completion rate for Pakistani girls in 2018 was only 64 percent.
There are many reasons why female education is hindered. Poverty is one of the most important factors for determining whether a girl can access and complete her education. The family's economic status is an important factor in determining whether a parent is capable of withstanding the costs of a child's education. Girls are the most direct victims when education costs are unaffordable for poor families.
Marriages at young age are also a crucial challenge because they are more likely to have children at a young age. Having children and getting education simultaneously can affect education, as well as the health of the girl's children.
Some schools do not meet the safety, hygiene, or sanitation needs of girls. In some educational institutes, teaching practices are not gender-responsive and result in gender gaps in learning and skills development.
The lack of government funding for female education and harmful gender norms are the major obstacles. Some people believe that girls should not be educated beyond a certain age and should be removed from the educational system when they go through puberty to diminish the possibility of romantic relationships.
Violence also prevents girls from accessing and completing education – often girls are forced to walk long distances to school exposing them at an increased risk of violence. Most recent data shows that approximately 60 million girls are sexually assaulted on their way to or back from school every year. This often has serious consequences for their mental and physical health and overall wellbeing, and also leads to lower attendance and higher dropout rates. Some families try to keep the girls out of school due to security concerns when schools are not easily accessible.
If we consider society as a tree, then men are like its main stem which fortifies the tree to face the elements and women are like its roots; the nurturer and the ones that keep the society together. The stronger the roots are, the bigger and stronger the tree will be. By getting education, women will know about their rights. She will be well aware of her rights and could not be easily exploited. Education develops woman as an individual who plays a crucial role in society. Educated women become working women, bolstering the economy. They become innovators who grow economies, and leaders that stabilise communities.
We need to take some serious steps to increase the literacy rate of women. We need to tackles discriminatory gender norms and harmful practices that deny girls' access to school and quality learning. Awareness must be created among people who have a rigid attitude towards educating women. We need to increase the number of schools, colleges, and universities for girls.
Education increases a woman's and her family's level of health awareness. When women are allowed to receive education, they create a healthier and more prosperous life for themselves and their families. The general quality of life is improved when women receive education. The education of women is an important connection to the alleviation of poverty. They can earn money and lift their families out of poverty. When women are empowered through education and work opportunities, they stabilise communities by identifying local problems, creating improvements and engaging with public institutions.
We all have to understand and admit that women cannot be kept away from getting educated because educating a woman means educating the whole nation. We can judge a society by how they treat their women because they are the soul of a society. It would be a mistake to leave women behind in the goal of sustainable development. We need to pick up our books and our pen without gender discrimination. Education is the only possible solution to almost all the problems. History is full of evidence that societies in which women were treated equally and educated had prospered and grew economically over time.
Hits: 16