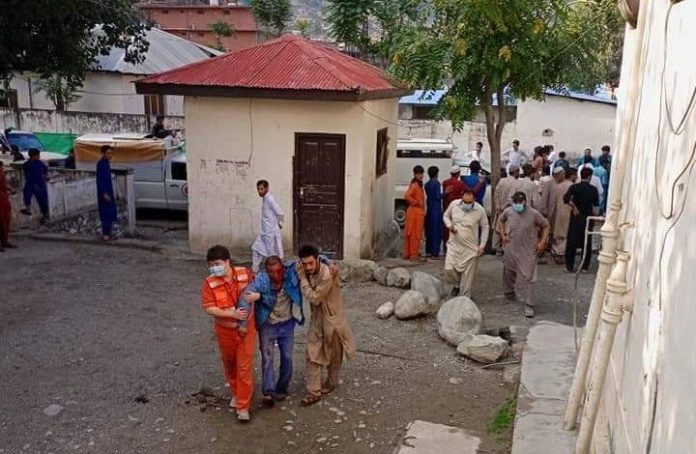 UPPER KOHISTAN: At least eight persons, including Chinese engineers and Frontier Corps (FC) personnel, lost their lives and several others sustained injuries in a blast near Dasu hydropower plant in the Upper Kohistan district of Khyber Pakhtunkhwa on Wednesday.
The blast reportedly happened near a vehicle and its nature was not immediately known.
Upper Kohistan Deputy Commissioner Arif Khan Yousafzai said the incident happened early in the morning at 07:30am when a coaster was carrying over 30 workers, including Chinese engineers, from the Barseen camp to the plant site. At the time of the blast, foreign engineers, Frontier Corps personnel and local workers were sitting in the bus. He said the cause of the explosion could not be ascertained immediately and investigation in this regard has been launched. He said the blast might also be the outcome of gas cylinder explosion or due to engine failure of the vehicle. He said a vehicle with explosives was also traveling to the site of the work at the time of the blast and experts are investigating the incident from all angles.
The deputy commissioner said as many as 39 persons have been injured in the blast. He said the deceased persons include two Frontier Corps personnel and four foreigners, while the injured include security personnel and workers.
A heavy contingent of police reached the blast site immediately and cordoned off the entire area. Rangers personnel also arrived at the incident site.
The injured persons were shifted to District Headquarters Hospital Upper Kohistan. Sources said the condition of some of the injured persons was critical and it was feared that the death toll might increase.
Sources said information about developments is coming slow in the area because of unavailability of mobile phone network.
To ascertain exact details about the incident, Khyber Pakhtunkhwa Chief Minister Mahmood Khan sent a team to Shangla through a helicopter. The team comprises KP Inspector General of Police Moazzam Jah Ansari, Special Assistant to Chief Minister on Information Kamran Bangash and KP chief secretary. Kamran Bangash said in a statement that details about the incident would be shared after initial investigation.