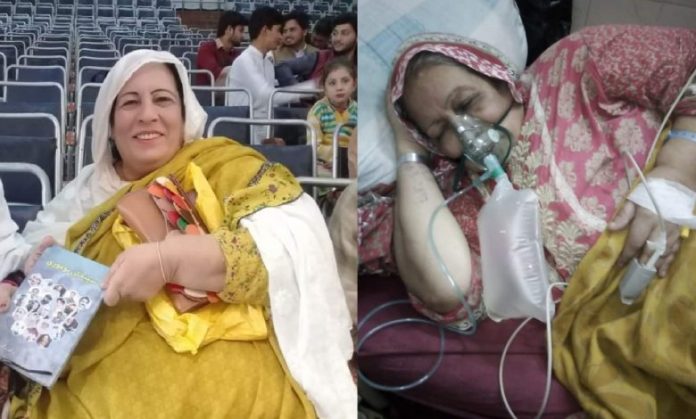 Rifaqatullah Razarwal
PESHAWAR: Eminent poetess, journalist and social activist Zubaida Firdous Zobi died after protracted illness in Peshawar on Saturday. She was 50.
Her funeral was offered in Peshawar Cantt on Saturday night after which she was laid to rest.
Zubaida Firdous joined the field of Urdu literature at a time when the trend of Pakhtun women coming to the field was low. She used the power of her pen for 40 years against social injustices, women rights and crating awareness among people.
Kulsoom Zeb, Chairperson of Khwendo Adabi Lakhkar, a literary organization, said while talking to TNN that Zubaida Firdous was ill for the last one month and she had also contracted coronavirus few days ago. She said Zubaida was a prominent poetess and journalist who had published several articles in different Urdu publications with the title of 'Zoobiat'. She was in-charge of monthly 'Haft Rang' women's section.
Kulsoom said Zubaida was sister of PTV producer Alamzeb Aamir (late). She had three sons and a daughter. Two of her sons died in a traffic accident three months ago and now she had left behind a son and a daughter. Zubaida served as vice president of Peshawar Press Club and was elected senior vice president of Khwendo Adabi Lakhkar in 2016.
Kulsoom said personalities like Zubaida are born once in centuries. She said a huge void is created in the field of Urdu literature with the death of Zubaida Firdous.
Famous artist and writer Khalid Khan, who is serving as anchor in Khyber News, said a large number of people including artists, politicians, poets and others from different walks of life attended the funeral of Zubaida Firdous.
Khalid Khan said Zubaida originally belonged to Mardan and she was married in Charsadda. Besides having expertise in poems, prose and poetry, she was also a capable journalist and her writings were regularly published in Urdu and English newspapers. He said the conduct of Zubaida was like a traditional Pakhtun woman who showed respect to seniors and love to juniors.
Zubaida's health condition deteriorated with death of her two sons in a traffic accident and she eventually died after contracting corona.
Kulsoom Zeb said Zubaida had written a huge collection of poems and prose, but her wish to publish a book remained unfulfilled due to financial constraints. She had also received several medals in recognition of her services for literature.
The Khyber Pakhtunkhwa Writers Association has also expressed grief over the death of Zubaida Firdous and called upon the chief minister to establish a degree college and library for women in recognition of her services.
Hits: 1