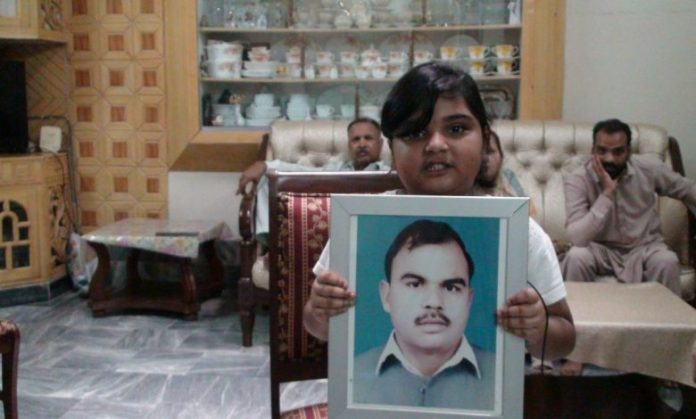 Gul Hammad Farooqi
PESHAWAR: Peter Sajan, who belonged to Christian community, was doing sanitary business in Peshawar. On June 04, 2012, unknown persons came to his shop and took him on pretext of some work, but kidnapped him.
Peter's family filed a complaint with Bhana Mari Police Station when he did not return home. The kidnappers contacted Peter's family from his own phone and demanded Rs2 million ransom, but the condition was that the ransom must be paid first, and the abductee would be released later. Peter's family was ready to pay ransom, but they did not trust kidnappers.
Peter's son, Jahangir Peter said police has never helped his family and it was not serious in recovery of his father. Peter's wife, Nasreen said the whole family is suffering from deep agony since the day he was kidnapped and she is not feeling well.
Shehla Peter, the daughter of the kidnapped trader, said the whole family prays for recovery of her father and now they are running out of patience. Adil is younger son of Peter who waits daily for his father's return and has gone into depression over continuous uncertainty about his father's safety.
Manaham is six-year-old grand-daughter of Peter who holds the picture of her grandfather and prays for his return. Her brother Emanuel said he is extremely disappointed with the performance of police in his grandfather's kidnapping case.
Peter's daughter-in-law Nida said not a single day passed with happiness since the kidnap of her father-in-law and the whole family is living in grief and tension.
Bhana Mari Police Station Investigation Officer Inspector Wajid Shah, when contacted, said the case was referred to Counter-Terrorism Department (CTD) and two suspects were also arrested, but they were released on bail.
Jahangir said the kidnappers contacted them several times from different locations in Peshawar and once from Jhelum (Punjab), and they were demanding Rs2 million ransom. He said now a long time has passed and the kidnappers have not contacted them.
Peter's family has called upon the prime minister and chief justice of Pakistan to take notice of the matter and ensure his safe recovery.
Hits: 0