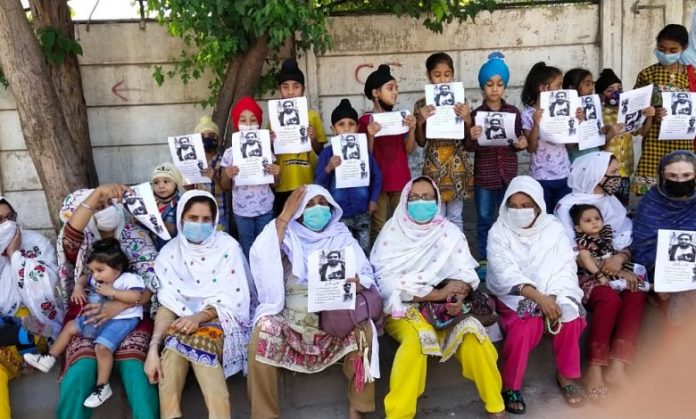 Gul Hammad Farooqi
PESHAWAR: Police are still clueless about a Sikh youth Avenash Singh who had gone missing from Gulbarg area of Peshawar Cantt on March 27.
The family members of the missing youth staged a sit-in outside Peshawar Press Club on Friday. The protesters including women and children demanded early recovery of the missing youth.
The mother of the missing youth said while talking to TNN that her son is missing for the last several days and he has not come home yet despite filing of a case by the police. She said the whole family is extremely perturbed over sudden disappearance of Avinash Singh.
An official said the family first approached the police with reports that their brother Avinash Singh has gone missing. However, later the family accused four Christian community members of kidnapping Avinash. The accused had secured anticipatory bail.
Amir Chohan Singh, elder brother of Avinash Singh, said they are four brothers and Avinash is the youngest who was in search of a job after completing graduation in engineering. He said the wife of Avinash is getting medical education.
Amir Chohan Singh said they recently quarreled with few people from Christian community over eve teasing issue. He said they had filed a case against the rival party and its decision was expected on March 31, but his younger brother was kidnapped three days before it.
Amir Chohan Singh said 30-year-old Avinash was a humble person and he wanted a good job. He said the court had ordered the FIA to take legal action against the people involved in eve teasing, but his brother has gone missing now which has further complicated the issue. He said it is first such incident in which a member of Sikh community has gone missing. He said no demand for ransom has been made so far.
Amir Chohan Singh said the Sikh community is living peacefully in Peshawar and everyone treat them with respect. He said he is satisfied with the police efforts for recovery of his brother.
He appealed to the chief justice of Peshawar High Court, prime minister and KP chief minister to ensure early recovery of his missing brother.
Hits: 0