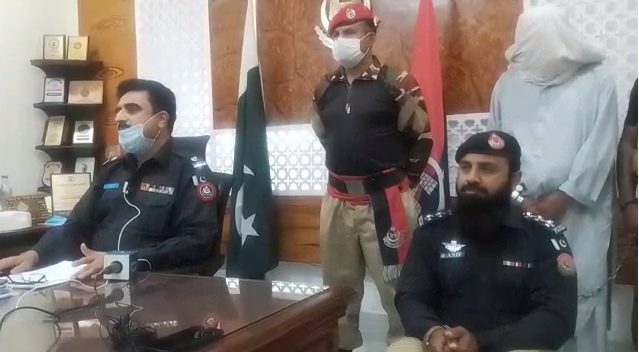 KARAK: Karak Police on Tuesday presented the killer of local journalist Waseem Alam before the media, and the killer was none other than the father of the victim.
Reports of arrest of the alleged killer, Haq Nawaz were received from Lakki Marwat, but Lakki Police did not confirmed these reports.
On Tuesday, District Police Officer (DPO) Karak Tariq Khubaib told media that Waseem Alam was killed by his father Haq Nawaz after exchange of harsh words. He said the accused has confessed killing his son during initial investigation. The accused had escaped to Lakki Marwat and then to Shah Saleem from where he was arrested.
Waseem Alam reportedly had differences with his father and he was living separately from him for the last 15 years.
Earlier, the office holders of Karak Press Club demanded Shuhada package for the family of slain journalist.
After the murder of journalist Waseem Alam on Saturday night, Karak Press Club office-holders called a meeting and passed a resolution which condemned the murder and demanded the government to provide Shuhada package.
Waseem Alam was joint editor of Sada-e-Lawaghir, a local newspaper.
The victim family expressed concern over the fact that the news about the tragic incident was only highlighted by TNN, Karak Press Club and just a tweet on social media and no other large media group highlighted the issue which is a matter of grave concern for them.
The journalist community has expressed grave concern over the murder of media person and demanded punishment to the culprit.
On December 07, 2020, a journalist was shot dead inside his house in Madina Colony in Dera Ismail Khan.
Police said two unidentified miscreants came on a motorcycle to the house of journalist Qais Javed, who belonged to a minority community. As Qais was not present at home at that time, the armed men waited for his arrival in the street. When the journalist entered his house, the armed men knocked at his door, and when the door was opened the armed men shot a single fire into the stomach of Qais which proved fatal.
Qais worked as a cameraman for Geo News for 10 years and recently he was working on his own web channel Ehad Nama.
Hits: 0