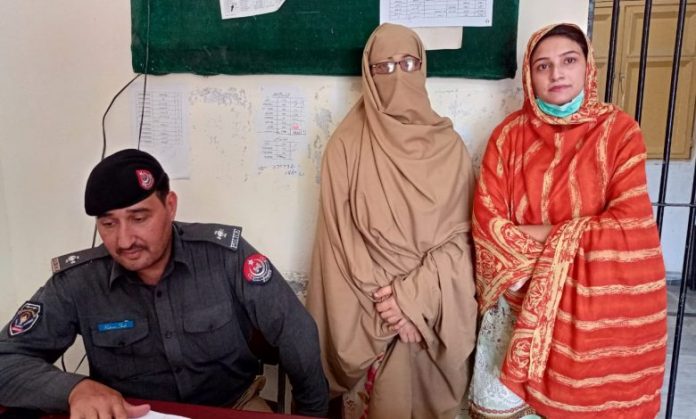 Salman Yousafzai
PESHAWAR: The first woman journalist from Sikh community from Peshawar, Manmeet Kaur has been arrested along with her husband from the premises of a court in a kidnapping case.
According to Gulberg Police Station, Manmeet Kaur, Ayun Bhatti, Rohaid Singh and Javed Thomas have been arrested over cancellation of anticipatory bail in Avinash Singh kidnapping case. Moharrar of the police station Meraj told TNN that the mother of kidnapped Avinash Sigh lodged complaint with police that her son was missing since March 27. She first lodged complaint against unknown kidnapers, but later on named the above mentioned accused as Avinash had a quarrel with the said family.
Police said Avinash was recovered safe and sound from Lachi area of Kohat on Friday night, while the accused were arrested from court upon cancellation of anticipator bail on Saturday and they would be produced in the court.
Parvinder Singh, elder brother of Avinash, confirmed that his brother has been recovered. He claimed that his brother was subjected to severe torture and he is unable to talk. He said the family had to stage a protest demonstration outside Peshawar Press Club for recovery of his brother. He said his family had received threats from different quarters during the protest and they were asked to stay silent, but they continued their protest.
Parvinder said Avinash is the youngest of four brothers. He said Avinash was in search of a job after completing graduation in engineering. He said the wife of Avinash is getting medical education.
Amir Chohan Singh, another brother of Avinash, said the 30-year-old is a humble person and he wanted a good job. He said the court had ordered the FIA to take legal action against the people involved in eve teasing, but his brother went missing which further complicated the issue. He said it is first such incident in which a member of Sikh community went missing. He said no demand for ransom was made. He said the family was satisfied with the police efforts during recovery of his brother.
Manmeet Kaur, the first woman journalist from Sikh community from Peshawar, was nominated for an award in UK last year.
Hits: 1