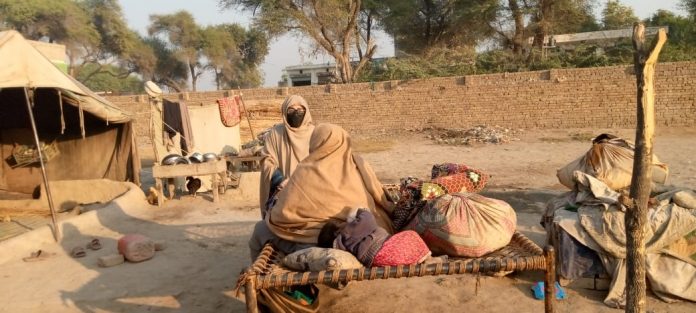 Bushra Mehsud
DERA ISMAIL KHAN: The coronavirus pandemic has not only claimed more than two million lives all over the world, but it has also worsened class segregation and inequalities in society.
There is no denying that the pandemic has put disastrous effects on the global economy however its impacts are different on people from different socio-economic backgrounds. The disease has not only enhanced the economic deprivation of the people already experiencing poverty, but it has also increased the stigmatization of the poor and working class.
Sakina Bibi, who sells women's shawls and other beauty products from door to door in Dera Ismail Khan, suffered many humiliations during the first wave of the coronavirus pandemic. Sharing her ordeal with the TNN, she complains that people's behavior was very rude and annoying during the lockdown period.
Sakina Bibi lives in a makeshift tent along with other nomad families near the Baloch hotel in DI Khan. She supports her family by selling women's shawls, beauty products and other household items from door to door.
"Once during the lockdown, I went to a house in the Madina Colony as I used to go there frequently and sell different items to the female. But this time I was harshly mistreated particularly by the male members of the family. They even threatened me that if I came to their home again, they would hand me over to the police," she tells TNN.
"Everyone was treating me like that," she adds. "People were not allowing me to enter their houses as they feared they might contract the virus," Sakina maintains.
According to Sakina, the entire lockdown period was very harsh as all her sources of income had ceased. "The male members of my family are mostly daily wage earners and they too, could not find any work. We had no money to feed our kids. We sold whatever we had to manage daily expenses," she continues.
Sakina has been deeply disheartened by people's maltreatment, as she adds people's rude behavior hurts her ego. "We, the poor people also have self-esteem. Instead of begging, we prefer to do work and earn an honorable livelihood," she keeps on saying.
If imposed, another lockdown will be highly challenging for many households as people like Sakina who have been living in makeshift tents are likely to experience more difficulties.
"Before imposing another lockdown, the government should make alternate arrangements for us. I appeal to the government and well-off people of the society to take care of the poor people living in their surroundings, otherwise, our kids will starve," she maintains.
Sakina and her family starved for four days when the first lockdown was imposed as according to her, they had no resources to arrange ration.
She is uncertain about the coming days as the pandemic doesn't seem to end. The number of corona positive patients is increasing with every passing day and so is the anxiety level of Sakina Bibi.