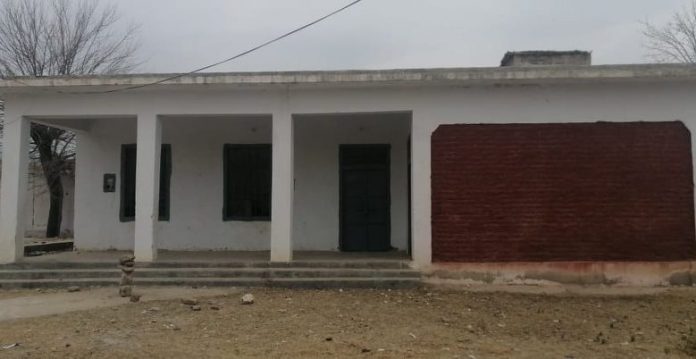 KHAR: The only girls school in Damadola area of Mamond tehsil in Bajaur tribal district is closed for the last 30 months, while the authorities concerned have turned a blind eye towards the situation.
The local people said hundreds of girls are enrolled in the school in Damadola having a population of over 2,000. However, they said the three female teachers of the school are not attending their duties and receiving salaries at home, due to which the school is non-functional. They said several complaints have been made with the relevant officers of Education Department and they always assure of action, but nothing happens practically.
They said Damadola is a far off village and people mostly are not well-off due to which they cannot afford to send their children to private schools.
The area people have called upon Chief Minister Mahmood Khan, Elementary and Secondary Education Minister Shahram Khan Tarakai and other relevant officials to take notice of the matter and punish the teachers who are not attending their duties. They said the continuous closure of the school has put the future of hundreds of girls at stake.
2 injured in bomb blast
A police personnel and a tribal elder were injured in a remote-controlled bomb blast in Aseel Targhao area in Barang tehsil in Bajaur on Saturday.
Police said unidentified miscreants had planted a remote-controlled bomb in Aseel Targhao. The injured persons was identified as police personnel Hakim Khan and tribal elder Malik Yar Khan. They were taken to District Headquarters Hospital Khar.
No one claimed responsibility for the attack till filing of this report. Police immediately reached the spot and started probe.
Targeted attacks and killings have recently increased in Bajaur over which the local people have expressed grave concern. They say such incidents are disturbing peace in the area, and people involved in such incidents must be brought to justice.
On January 22, a tribal elder died in a remote-controlled bomb blast in Asbal Targhao area in Barang tehsil.
Local sources said Malik Lal Said Jan was going home from bazaar when he was attacked with a remote-controlled explosive device due to which he was killed on the spot.
Hits: 0