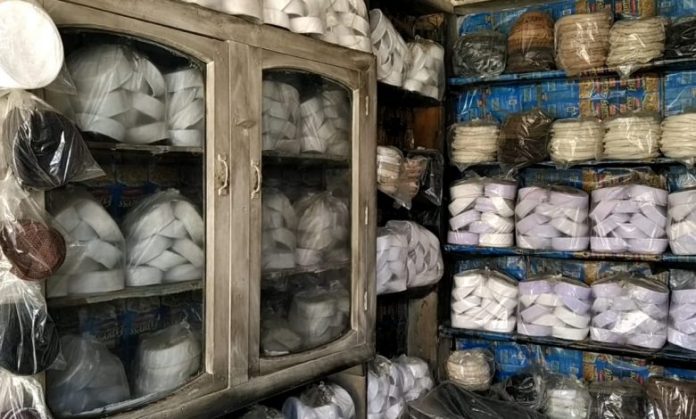 Junaid Ibrahim
SWAT: Tehsil Khaal is situated about 30 kilometres away from Timergara the headquarters of Lower Dir district.
People of the area are mostly dependent on agriculture and handicrafts, and it is very famous for traditional 'Da Khaal Topai , a locally-made cap which has a long history. "The price of the Khaal cape ranges from Rs200 to Rs6,000 depending on the quality and style. Special capes are also made on order," a shop owner Raham said while talking to TNN.
"Since my childhood I saw these capes being made and sold in local markets of Khaal. These capes are made by house women here, and we buy it from them," he said.
The market of Khaal caps was flourishing and local businessmen were earning handsome money from this business, but then the Chinese and Quetta caps arrived and this business started losing attraction.
Raham said the caps from China and Quetta cannot beat Khaal caps in quality, but people buy these caps due to lower price. He said he along with his father were selling these capes since long. He said Khaal capes are made from old types of clothe which is ordered from Faisalabad, other material like glitters cloth and special thread.
Raham said Khaal capes are transported to all over Pakistan, and Pashtuns of Bara, Jamrud, Landikotal, Swat, Peshawar and many other areas like it. He said the caps are also exported to Afghanistan, Turkestan and other Asian countries.
President of Khaal Bazar Akhunzada Kalimullah said Khaal cap is very popular among Pashtuns. He said Pakhtuns wear these caps on special events like Eid, Friday prayer etc. He said women of Khaal tehsil are engaged in this cape making and there is huge industry of these capes here, but it needs attention of government. He said the business can be further promoted if training centres are built for makers of these capes.
Kalimullah said the woman of Khaal must be trained about online trading where they can sale the capes in an easy way and earn revenue.
Along with Khaal many other areas like Rabat and Warai are also known for making these caps on small scale.
Hits: 6