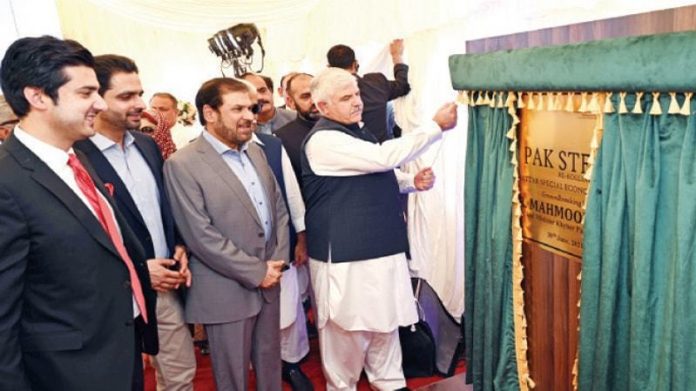 HARIPUR: Khyber Pakhtunkhwa Chief Minister Mahmood Khan on Wednesday performed the groundbreaking of the first-ever industrial unit by a Turkish company at the Hattar Special Economic Zone (SEZ) in Haripur.
According to an official statement, the industrial unit by the Turkish company would be spread over 29 acres of land and is expected to bring in an investment of $50 million and create over 700 job opportunities. The industrial unit is expected to prefer locals for employment opportunities.
The industrial unit, a bottling plant, will be established by the Turkish Multi-National beverages company, CCI. It is the 7th plant of CCI company in Pakistan and the first in Khyber Pakhtunkhwa.
Mahmood Khan while speaking on the occasion welcomed Turkish investment and said that the initiative would pave the way for bringing in more Turkish investment in Khyber Pakhtunkhwa in the future. Talking about the incentives being extended by the provincial government to investors, Mahmood Khan said that providing facilities to investors through a one-window operation was an important step to attract more private investment.
The chief minister said that besides the industrial sector, there were ample opportunities in the tourism and energy sectors of the province. Of the Hattar Special Economic Zone, the chief minister said it was of vital importance due to its strategic location and that's why the economic zone was being extended. He said the Phase-II of the zone would be inaugurated soon.
Turkish Ambassador Ihsan Mustafa Yurdakul, General Manager CCI, Pakistan, Ahmad Kursad, company Regional Director, Ihsan Iqbal and others also addressed the ceremony. Later, Mahmood Khan also inaugurated a private sector Steel Plant at the zone established with an initial investment of $50 million and has an annual production capacity of 0.5 million tons.
Minister for Finance and Health Taimur Saleem Jhagra, Minister for Local Government Akbar Ayub, Special Assistant to CM on Industry Abdul Karim Khan, Management of CCI Pakistan and officials of Industries Department attended the ground-breaking ceremony.
The chief minister said the KP government has unveiled a historic and pro-people budget for the upcoming financial year, which also offers tax concessions and other incentives to private investors.