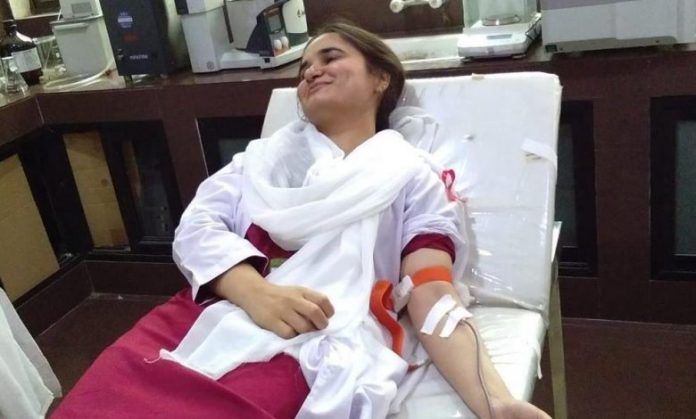 Salman Yousafzai
PESHAWAR: "My father had a heart attack and we were told by the doctors to arrange surgery for him which required four bags of 'A-Negative' blood. Two bags of blood were offered by my cousins and two more were needed for which I contacted 'Blood Heroes' and they provided us with two bags of blood on the eve of the surgery."
Asad Zaman, hailing from Lakki Marwat, who lives in Islamabad, told TNN his father has recovered completely after a successful surgery and is now feeling better than before.
Blood Heroes is a Khyber Pakhtunkhwa-based non-governmental organisation (NGO) working to save the lives of hundreds of patients who are in serious need of blood donations.
Head of Blood Heroes in Lakki Marwat and a student of Khyber Medical College (KMC) Peshawar Gulalai Arshad said that she had earlier set up blood camps for various patients in her college. But when the lockdown was imposed in April last year and the colleges got closed, she started receiving phone calls after going home from different areas by the people who were having difficulty in getting blood donations for their patients because of the lockdown.
Talking to TNN, Gulalai said, "We had no other choice but to set up blood camps for these patients and provide them with timely blood transfusions. However, an idea came to my mind at that time that why don't we use social media platforms for this noble cause."
At the same time, Gulalai shared this idea with her friends and they started a campaign on social media with the name of Blood Heroes which went on for three weeks. "We created posts, posters and various videos as a result of which not only 143 people donated blood to us but another 164 people got themselves registered. Three more blood camps were set up in different areas. "
According to Gulalai, because of the Ramazan and Eid festivities, the blood donation campaign was stopped temporarily, but meanwhile, they started supplying plasma therapy to the patients who got infected with coronavirus. "We would get plasma from patients recovering from coronavirus and provide it to other patients suffering from coronavirus," she said.
"Then we started working on it in which we crossed the Khyber Pakhtunkhwa border for the first time and during that time volunteers from Punjab, Islamabad and Sindh joined us and we managed to provide plasmas for 700 patients in 45 days. Along with that, we delivered 500 blood bags to needy patients," she said.
How to contact Blood Heroes?
According to Gulalai Arshad, they created pages on WhatsApp, Facebook, Twitter and Instagram titled Blood Heroes. Anyone who requires blood sends a message, volunteers call them and after getting all the required information, they post all the information on social media and contact the donors. After that, the donor himself goes and provides blood to the concerned patient.
According to Gulalai, they have simplified the procedure in which the donors donate blood directly to the concerned patient. In this way, on-time delivery of blood to the patient rebuilds the confidence of the donor.
Goals of Blood Heroes
Gulalai Arshad says that their main goal is to make people aware about importance of blood donation.
"Now we are trying to make people aware about the importance of blood donation so that in the future they can go themselves to a hospital and donate blood to any needy patient and save his/her life," she said.
"Apart from social media, we are also conducting awareness campaigns in various institutes, public parks and bazaars to guarantee blood supply to all the emergency cases on a daily basis. In addition to that, we also set up blood donation camps for thalassemia patients".
Hits: 6