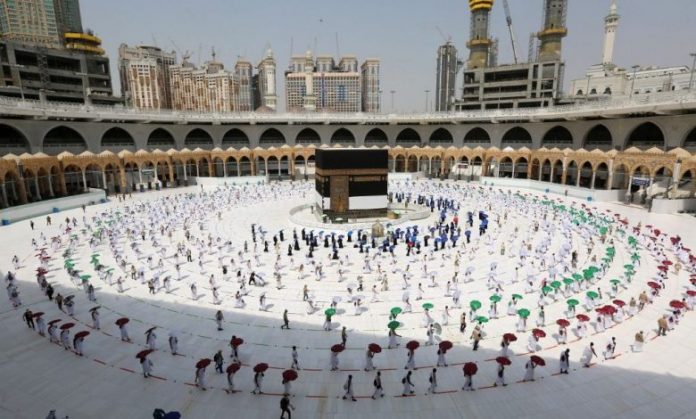 PESHAWAR: The Saudi Arabian government has announced standard operating procedures (SOPs) for the pilgrims coming to the kingdom for Hajj 2021 amid the coronavirus pandemic.
According to the Saudi Ministry of Health, the pilgrims will have to get themselves vaccinated from the designated laboratories ahead of the Hajj 2021.
The pilgrims have been directed to get vaccination ahead of the month of Zilhaj — most precisely two weeks ahead of visiting the kingdom. The pilgrims will also need to provide a concrete evidence of getting a jab from vaccines certified by the World Health Organisation (WHO). The pilgrims coming from other countries to Saudi Arabia would have to undergo a COVID test on their arrival in the kingdom. They will have to show their negative corona test to the Saudi authorities to proceed for the Hajj.
Those working during the Hajj 2021 would also have to receive a dose of COVID-19 vaccine and they would be bound to follow all the precautionary measures like wearing facemask permanently during working hours, use of sanitizers etc.
The pilgrims arriving in Saudi Arabia will have to undergo a PCR test 72 hours before their arrival. After that the arriving pilgrims in the kingdom will have to spend 72 hours in quarantine.
The COVID test would be undertaken on pilgrims after 48 hours of their arrival by approved field service teams. About 60 percent population of the holy cities of Makkah and Medina will undergo corona vaccination.
Saudi Arabia stakes its reputation on its guardianship of Islam's holiest sites in Makkah and Medina and its peaceful organisation of the Hajj. In 2020, the kingdom dramatically reduced the number of pilgrims to around 1,000 to help prevent the spread of the coronavirus, after barring Muslims abroad from the rite for the first time in modern times.
Hajj is a once-in-a-lifetime duty for every able-bodied Muslim who can afford it.
Meanwhile, Saudi Arabia has announced that Umrah permits will not be issued for domestic pilgrims aged 70 and above irrespective of their coronavirus vaccination status.
According to the Saudi Ministry of Hajj and Umrah, citizens and expatriates in the Kingdom can apply for Umrah permits only if they are aged between 18 and 69 as per the instructions of the Ministry of Health.
Hits: 1