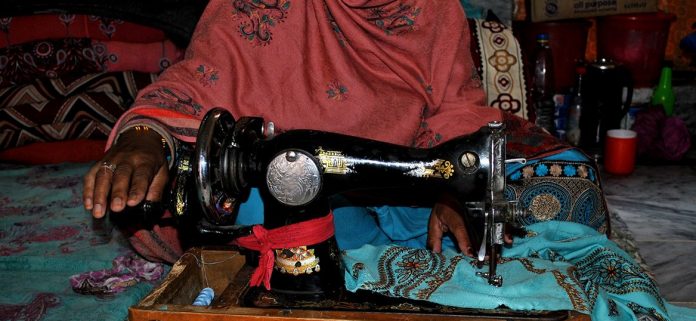 MARDAN: Harender Devi from Hindu community in Mardan believes in making life easier for her and other women by doing skill-based work and imparting training to others.
Harender Bibi has three children and she is looking after them after the death of her husband. She told TNN that her father was reluctant to send her to school due to problems for minorities, but she was committed to get education. She says she received initial education under the Roshni School project initiated for former prime minister late Muhammad Khan Junejo. She says she received education up to matriculation with hard work and paid fee from the earning from sewing at home.
Harender Devi says she believes in making life easier by earning livelihood through skill-based work. She says she educated her children with her earning. She says she also did social work and also worked as polio vaccination worker for supporting her children. She is also associated with Faith Friends Group and works as a volunteer with Alfalah welfare organisation.
The lady says social work doesn't distinguish anyone on the basis of faith and she feels happiness while serving people from other religions. She says all human beings are equal and should be treated with equality.
Harender Devi says girls from different religions come to her sewing centre for free classes. She says she enjoys great respect from girls coming to her centre and she never feels any different from others.
Harender Devi gets opportunity to interact with people from different faith through the platform of Faith Friends Group. She says she was earning well from sewing, but then a thought came to her mind that she must transfer her skills to other girls to make them stand on their own feet and support their families. She says she was helped by Alfalah NGO by providing her sewing machines. She says she never receives salary or any other benefit and she is doing it just for betterment of girls who want to learn sewing. She says her son is helping her financially to run the centre and she hopes that the centre will develop with the passage of time.
Devi says if someone provides her a wide space for her centre then she would be able to impart training to more girls for sewing skills.
Hits: 0