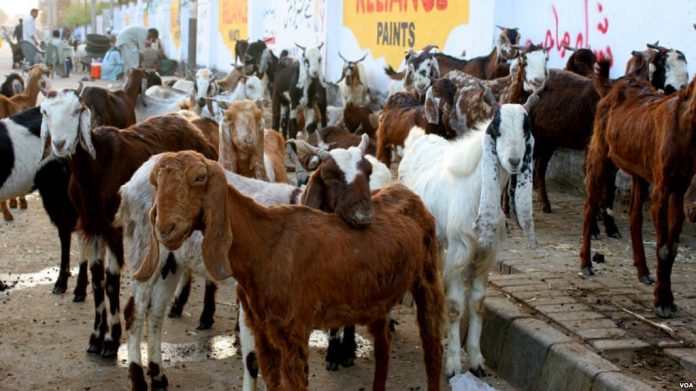 Muhammad Fahad
PESHAWAR: The sale and purchase of sacrificial animals reached its peak time as Eidul Azha is just around the corner.
I was also thinking about visiting the cattle market when a friend came and said let's go to market. As soon as we reached the cattle market, there was a different kind of environment with sellers demanding very high return for their animals like cows, buffalos, goats and sheep etc.
My children had asked me to buy a cow as the neighbours had also bought one. The children are innocent, they don't know it's more important to buy sacrificial animal according to one's affordability than to look at others. The summer heat had added to the difficulties of buyers and sellers and let alone humans, the cattle were also feeling the heat.
A bull, named 'Badshah' was getting special attention of people because of its huge size and it was priced at Rs1 million.
The message of Sunnat-e-Ibrahimi is that of sacrifice, love and patience, but with the advent of Eid days, a storm of price-hike strikes the country and everything becomes so pricy that the common man finds it difficult to arrange common things. Such are the high prices of animals that the goat which we bought on previous Eid for Rs30,000 is now costing about Rs50,000. Large animals' prices are already high, but now goats and sheep are also making the buyers thinking several times before they go for buying it.
The story doesn't end here because a head of family also needs to arrange new clothes, shoes, bangles, cosmetics and food items for Eid special cuisines. Arranging financing for all these things for many common men in this era of high inflation is next to impossible.
Majority of the country's people were already facing problems due to limited sources of income and the coronavirus pandemic further added to their problems. The ever increasing inflation has added to the woes of working salaried class, poverty ratio has increased, while improvement in economy is very slow and testing the nerves of people. Strict and indiscriminate action against hoarders and profiteers is inevitable to give some relief to masses during this Eid.
Hits: 1