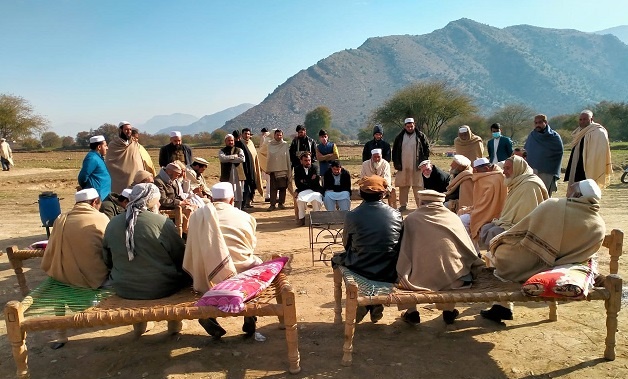 GHALLANAI: After South Waziristan, another house was razed by a mob over a land dispute in Baizai tehsil of Mohmand tribal district.
Two rival tribes came face to face after the house demolition, but the local police with the help of tribal elders brought the situation under control and managed to keep the situation calm for the time being.
TNN correspondent reported that the rival family attacked the house of Qari Ahmed in Ghanam Shah area of Musakhel on Friday morning and demolished it. The women and children in the house were left under the open sky in extreme cold weather after the house demolition.
Police after receiving information arrived at the scene and arrested five accused involved in the incident. The situation in the area became tense and there was threat of a clash between two rival families as armed people had taken positions against rivals. However, police officers, tribal elders and district administration officials reached the spot and started efforts to resolve the issue through a Jirga.
The local elders appreciated the role of police for averting an armed clash between rival groups. They said the police and Jirga system are playing important role for peace in the area.
After long deliberations, both sides agreed for talks and empowered the police and elders to make a decision, and went back to their homes.
The Mohmand house razing incident happened three days after a qaumi lashkar (group of volunteers) of Zalikhel tribe demolished and set on fire two houses in Azam Warsak area of Wana, the main town of South Waziristan tribal district.
Local sources said the incident happened in presence of police personnel and officials of the district administration. Zalikhel tribe had declared Haji Khan Badshah Sarkikhel and Lashta Khan Karaykhel as tribal convicts and announced a verdict of demolition of their two fortress-like houses. The demolition was carried out after talks between elders of Zalikhel tribe and police ended without any outcome.
Sources said about 4,000 volunteers of Zalikhel tribe participated in the mob attack on the houses. The personnel of police and district administration were seen helpless before such a large militia and they had to leave the scene eventually.
Hits: 0