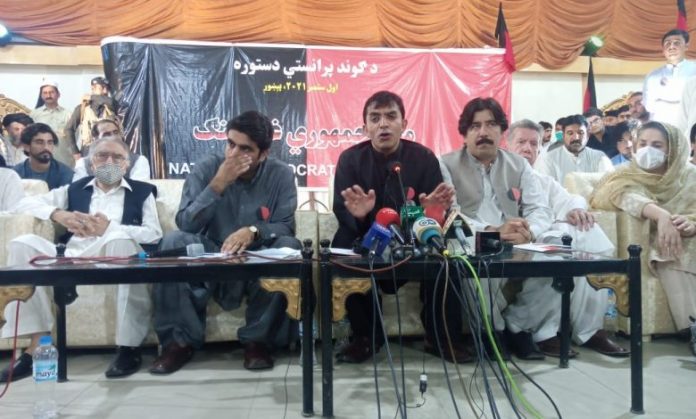 Rifaqatullah Razarwal
PESHAWAR: A new political party representing Pakhtuns, National Democratic Movement (NDM) has been established by MNA from North Waziristan tribal district Mohsin Dawar.
Mohsin Dawar said at a press conference that other political parties in the country are following hereditary politics, while his political party will give chance to youth, while the advice of senior leadership will also be used. He said a platform was needed to raise voice for Pakhtuns at a time when some institutions hold sway over everything.
Main leaders of the party include eminent lawyer Abdul Latif Afridi, Afrasiab Khattak, Jameela Gilani and Bushra Gohar.
Analysts are divided over the utility of the NDM with some believing that it is not expected to make difference, while others considering it a good omen for Pakhtuns.
Prof Dr Jameel Ahmed Chitrali from the Department of Conflict Studies, University of Peshawar, said while talking to TNN that the NDM may prove beneficial for KP, particularly for merged tribal districts. He said it is the beauty of democracy that every citizen can participate in it according to his own preferences and beliefs. He said a leadership gap always existed in merged tribal districts since the creation of Pakistan.
Prof Jameel Chitrali said previously people did not have much association with political parties in merged districts. He said after the Ziaul Haq era, Jamaat-e-Islami was given some influence in merged districts, Jamiat Ulema-e-Islam had presence in North and South Waziristan, while Awami National Party had some influence in Mohmand and Bajaur. He said Pakhtun Tahaffuz Movement (PTM) has played a crucial role in creating political awareness among the people of merged districts.
Prof Dr Darwesh Afridi from Institute of Gender Studies, UoP, said it is not first time that disgruntled leaders from a party have formed another party. However, he said, most of times, such people return to their parent parties after their experiments fail.
Dr Darwesh said the NDM is unlikely to pose a challenge to mainstream political parties. He said Pakhtuns need to unite on a single platform and do politics for their collective rights. He said parties like NDM create further divisions in national politics.
Hits: 2