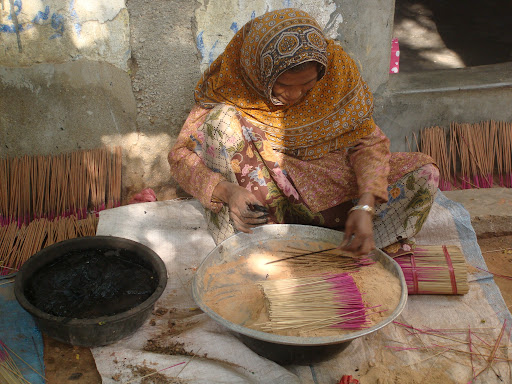 Khalida Niaz
PESHAWAR: The Khyber Pakhtunkhwa government has passed the Home Based Workers Bill from the provincial assembly under which skilled people who work from home will be registered after which they will be entitled to all rights and privileges enjoyed by other workers.
KP Home Based Workers Union President Tajmeena said while talking to TNN that her efforts of 13 years bore fruit and finally the bill is approved by the provincial assembly which is a matter of great satisfaction.
"A large number of home based workers, particularly women, are contributing a lot to businesses, but they were not aware about their rights," she said, adding that home based workers also deserve all incentives enjoyed by other workers.
Role of labour foundation
Tajmeena said she was given awareness about rights of home based workers by Labour Foundation. She said people who got awareness about the issue formed a union which also had women members from Swat, Nowshera, Mardan, Charsadda and rest of KP. However, she said the registration of the union was a very difficult task for which she ran from pillar to post.
"We had started preparations for a huge protest in case the bill was not passed. However, it was a good development that the bill was passed. Better late than never," she said.
The provincial president said home based women workers face a lot of difficulties and they don't get due reward for their work due to exploitation by the middle man. She said women also had to look after their home after work, which makes their lives more difficult, while they don't get even the half of what male workers get. However, they are hopeful that now with the passage of the bill, their problems would be resolved.
Who is eligible?
Khursheed Bano, administrative officer at Da Hawa Loor, a welfare organisation, said recognition of home based workers as labourers will resolve their long standing issues and problems. She said the most difficult task when they started work 13 years ago was to locate the home based workers and ascertain their real number.
"We collected data of home based workers in different districts and formed groups working in different homes," she said.
Khursheed Bano said her organisation not only worked for women's rights, but also provided them digital skills. Our female workers visited homes of female workers and taught them how to use mobile phone and use different applications for help in their businesses.
Status of implementation
Khursheed Bano said her organisation's officials held different meetings with women lawmakers and told them about the importance of legislation for home based workers. She said the role of MPA Zeenat Bibi in bringing the bill to the assembly and its passage was really commendable.
Now that the law has been passed, Khursheed Bano said more work needs to be done in this regard as it was witnessed in the past that laws were enacted, but implementation was not up to mark. She said her organisation will create awareness about importance of home based workers law among stakeholders.