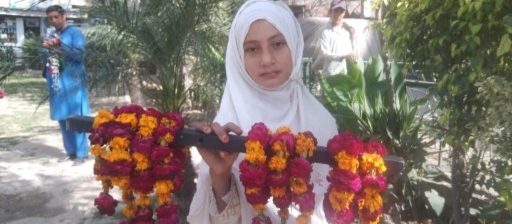 Nasreen
PESHAWAR: An eleven-year-old girl who sells flowers in Peshawar Saddar says she never goes near any man who offers her money. She says she leaves the place without argument whenever anyone asks her not to sell floral bracelets at a particular place.
The girl, Khajida, says she comes to the city while covering a long distance on foot and sells up to 10 floral bracelets to collect money for Eid and other expenses.
The brave girl said while talking to TNN that she sells a single piece in Rs50 and helps her mother meet the expenses of her home. She aspires to become a religious scholar and has taken admission in a madrassa (religious seminary) for that purpose.
Khadija says many people have become familiar to her in Saddar Bazaar and whenever someone tries to tease her, people come to her rescue immediately. She says she prefers to find female customers, but also had to approach male customers if female buyers are not there.
Khadija says her sister-in-law does the difficult job of decorating roses in a thin steel wire which takes five hours daily. She says her sister-in-law prepares 30 to 40 fresh flowers bracelets daily which she and her brother sell in the market. She says the unsold bracelets are wasted as she has not system to keep the flowers fresh for another day. She says she had to start selling floral bracelets after death of her father to support family. She says her mother is fully supporting her in her dream of becoming an Aalima (religious scholar).
The young Khajida doesn't know about calculations much, and she only knows that she has to sale at least floral bracelets daily and take back Rs500 home.
There are many other girls like Khadija's who are working to support poor families at such a young age instead of going to school. In some unfortunate incidents, such girls face situations of malhandedness and abuse. The focus then shifts to the government policies and one wonders whether there is any policy for such little girls who are forced to work to support their families.
Hits: 0