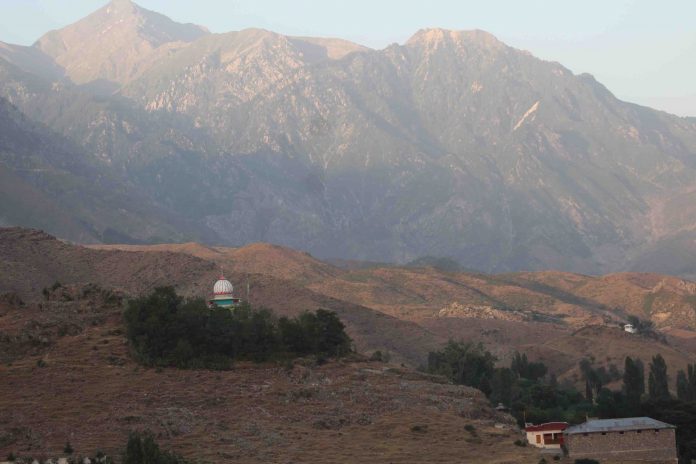 By Muhammad Daud Khan
PARACHINAR, North-West Pakistan- Speen Ghar, or "White Mountain," as it is known, forms a natural frontier between Pakistan and Afghanistan. In the morning, as the sun appears from the east, the mountain reflects golden rays, lightening up an immense field of historic Parachinar valley, the only Shiite majority city in the seven tribal districts of Pakistan.  On a clear day, Speen Ghar can be seen in the distance, snow-covered even in summer.
Near the Speen Ghar, is Malana, a lush green village full of walnut trees; near the road on a mound is a huge building of Imambargah, a place for preaching about Islam. It stands wall-to-wall another house, a Gurdwara, a place of worship for Sikhs.
Despite their different faiths, these holy religious houses stand side by side in harmony. The worshipers of both faiths are friends and neighbors who help each other out in their daily lives.  This example of pluralism is especially remarkable in a tribal region, known for conflicts and militancy. Once, headlines about sectarian clashes, bomb blasts and conflicts told a different story.
"Sikhs are our brothers we provide Imambargah space during their religious festivals," said Barkat Ali, 60, a caretaker of historic Gurdwara. Once Baba Guru Nanak, the founder of Sikhism stayed there in the 16th century. "We open the Imambargah gates to Sikh devotees, even provide wood for cooking during their religious festivals," he added.
This type of interfaith harmony among the neighbouring houses of worship is present not only in Malana, but across the Kurram district. 
Towards the west, when passing through Malana, the two religious houses are visible. The Imambargah has two parts, the old and the new. The old part is the main hall for prayers and gatherings, made of stone, an old fashioned tribal construction with a graceful look. The entry point is a newly constructed, modern bungalow.
The next wall-to-wall building is Nanak house, a Gurdwara, a small, colorful and clean building with an orange flag waving in the air. In the Sikh religion the flag is a symbol of peace and free food for those who need it.
At the entrance is a veranda with an attached hall that houses the focus of attention – the Takht or "throne" covered with plush green cloth. Two Kirpans,(diggers) one of the five Kakar in Sikhism, were placed on the throne which was flanked by a yellow and orange flag.
Malana is a Shiite Muslim majority village famous for natural water springs, a main source that provides drinking water to the entire border city. Currently, not a single Sikh family is living in the village.  The majority of the Sikh devotees from different parts of the country visit this Gurdwara. The Sikhs own business instead of village they prefer living in the cities.
No one knows for sure how many Sikhs live in the area. When asked for data on the Sikh community, the Pakistan Bureau of Statistics (PBS) replied, "The data of Sikh community was not collected in census 2017. So we regretfully inform you that the requested data is not available in PBS. As per court ordered the Sikh religion data will be included in the upcoming census."
Baba Gurpal Singh, based in Peshawar, is a representative of Sikh Community in Khyber Pakhtunkhwa, and newly merged districts.  He says the total number of Sikh communities living in Pakistan is 55,000, in which the majority belongs to Khyber, Orakzai and Kurram tribal districts. Due to militancy in these areas, Sikhs become Internally Displaced. "The displaced Sikh were settled in Peshawar Gurdwara, many families were hosted by relatives"
Parachinar is an unexplored green valley for tourists. It is a Shiite majority city and has a long had a closed border with Afghanistan, with tight security; no one from other districts can cross the city check post without the permission of the local guarantor. The security forces keep all details and National Identity Cards and provide a token to an outsider with a written entry-exit dates.
Mukesh Singh and Rakesh Singh are twin brothers in their early thirties who run a family business of spices at Turi market in Parachinar. Dressed in traditional Shalwar Qames, black and shining hair with a modern haircut, and short modern beards, they look like Pakhtun tribal gentlemen.
At the first glance, it was hard for me to recognize their identity. Rakesh has folded his sleeve as we begin the conversation. I saw a printed digger and traditional Kara on his right arm. Kara is a loose steel bracelet worn by members of the Sikh faith.  It symbolizes a belief in eternity.
Before the interview, Rakesh Singh orders traditional "Qawa," a tribal green tea without sugar. Speaking loudly in the local Pashto dialect, he insists to make it in a hurry.  The Rakesh family has lived in Parachinar for many generations. Rakesh's family is one of three families currently living in upper Kurram. He has recently admitted his two children to school; he is excited about their education.
Every year in Muharram, a holy month in the Muslim's calendar his family members serve water, tea and sharbat among the mourners. "On the 9th, 10th days of Muharram we prepare a special basket of sweets and candies and distribute it among mourners in Imambargah," Said Rakesh.
His family has inherited this tradition of solidarity from their forefather. "Our upcoming generation will also pursue this legacy," he said.
Mukesh and Rakesh are the only Sikh shopkeepers in Turi market. Rakesh replied,  "We're living here like brothers with Muslims. We always had a good time with our neighbour shopkeepers. Together we share joy and sorrow," he said.
When I asked about his appearance, "We're Mona Sikhs, we shave and trim hair like local tribals" Mukesh Singh explained.
Gul Hassan, in his early forties, is a dry fruit seller. His shop is located next to Mukesh and Rakesh at Turi market. He has known the Sikh shopkeepers for the past 20 years They share lunch and Qawa once a day. "I still remember the wedding day of Rakesh and Mukesh. I gifted traditional Sehra," said Gul Hassan recalling the memories with a light smile.
A Bit of History
With respect, the residents of Malana don't call it Gurdwara. For most elders, Gurdwara is a new term.  For centuries they called it "Baba Nanak" house. In summer the Sikh devotees come here in large numbers. Before the Covid-19 pandemic, thousands of devotees were visiting here, but from the last two years, they are coming in small groups.
"The Sikh community from parts of Khyber Pakhtunkhwa and Punjab visit the Nanak House. We treat every devotee as a special guest and provide them with every possible cooperation, we open two gates of Imambargah for them, where they take tea and serve lunch under the shade of our mourn house," said Barkat Ali.
He explains that centuries ago when the Turi tribe migrated to Kurram they established an Imambargah at Malana, one of the oldest in Parachinar. On the side of Imambargah was the Nanak house, with no building. For centuries it was open Takhat, 20 years ago the Sikh community build a worship house here. The Turi tribe provides the land, even helped in the construction of Gurdwara.
Kurram is the only tribal district among seven where the Sikh community has maintained three Gurdwaras. One in lower Khurram, while two in upper Kurram all of them are functional, but the Sikh community are migrating from the area, from the last 14 years 73 families have been migrated from Kurram to big cities.
Mukesh Singh said only seven Sikh families are living in Kurram, which consist of 45 people. "Three families are living in upper Kurram while four in Lower Kurram," Mukesh said.  Families have migrated from Kurram due to deteriorating security situations. "The Kurram security and weather is unpredictable."
During 2007-2012, the five years long sectarian clashes, hundreds of Muslims were killed. The Parachinar Thal road was closed for traffic for five years. Very interestingly not a single person from the Sikh community had been hurt in sectarian clashes.
During the conflict, the main road that leads to Peshawar was closed for traffic, but those Sikhs who wanted to migrate from the area, the Muslim authorities even opened the roads and provided safe passage and security to Sikh families.
"Before 2007 at least 80 Sikh families were living in Kurram. During the clashes Sikh community migrated to Hassan Abdal, Lahore and Peshawar, they never returned." Mukesh Singh explained.
Santokh Singh family is one of the 73 families who migrated from Kurram during the sectarian clashes. He established a general store and is living a busy city life in Peshawar, the capital city of Khyber Pakhtunkhwa. Whenever he gets a chance he never misses an opportunity to visit Kurram.
In 2008, Santokh Singh shifted to Peshawar for higher education. After two years his entire family migrated to Peshawar. He had spent his teenage years at Sadda, the major city at lower Kurram situated on both sides of Thal Parachinar road. Now almost 11 years have been passed.
"Before 2007, Shiite, Sunni Muslims, Sikh, Hindu and Christian community were living happily. We celebrated each other faiths, wedding functions, and religious festivals with great zeal. The youths performed "Attan," a special dance in Pakistan-Afghanistan. Men dance in a circle to music of beating a double-headed barrel drum," he recalled during a telephone interview.
Nazir Hussain, 53, is the General Secretary of Shopkeeper Union in Parachinar and owner of the utility franchise in the city. He is a popular figure among shopkeepers and district administration. "Three months ago in Malana the Sikh community was arranging a function. I supported them financially," said Nazir Hussain.
He has two close friends in the Sikh community, including Narain, is Mona Sikh and a shopkeeper. "When Narain wanted to paint and colored MaliKhel Gurdwara, I financially helped," Nazir Hussain said. "Whenever the Sikh community asks for help, we provide every possible support."
Closely Knit Community
Baba Gurpal Singh says, the people of Malana has a strong bond with the Sikh community. "We have limited space in Malana Gurdwara and the Muslims always offer us Imambargah space. They open their worship house for us in time of need."
The Muslims look after our Gurdwara without any charges. "We have given Gurdwara keys to Barkat Ali, a noble person. He never disappointed our community," Baba Gurpal Singh said.
During Ramadan, the holy Islamic month, Mukesh distribute "Daan" charity in the Muslims community. In Sikhism, the Sikh donates 10 per cent of its annual earning. "In Ramadan, we distribute rations to the needy Muslim families," Mukesh Singh said. He was reluctant to share further details because the religion doesn't allow publicity for charity work.
Bhagat Singh, 65, is a shopkeeper in Kurram. He has a long white beard, tied to a dark blue Turban, and is a prominent personality. "From the last 300 years, we're living here. First, our forefathers lived here. Now these valleys are my home, I live and will die here," Bhagat Singh said, offering testimony to the harmony that exists between two faiths in this remote part of Pakistan.
Muhammad Daud Khan is a Multimedia Producer. He tweets @daudpasaney.