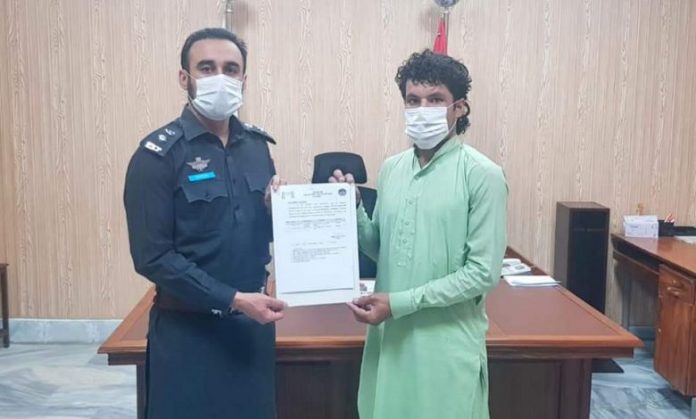 BARA: First time in history of merged tribal districts, Khyber District Police handed over appointment letters to the children of four policemen who had died during their service.
District Police Officer (DPO) Waseem Riaz said on the occasion that he is fully confident that the newly-appointed youth in the Khyber Police force for services of their family to the department will continue the tradition of their family and serve the country with honour and dignity. He said the policemen who died in the line of duty served their country selflessly and their children are now up to the task to even sacrifice their lives for the country when the time comes.
The district police chief said the process of appointment of children of deceased police personnel is already continuing in other districts of Khyber Pakhtunkhwa, and it is first time that appointment letters have been given to the children of deceased cops in Khyber tribal district. He said this step has been taken to recognise and honour the services of the deceased policemen for the department and the country at large.
Waseem Riaz said the Levies and Khassadar personnel of erstwhile Fata have been integrated into KP Police after the merger and their training process on modern lines is continuing with a swift pace. He said the modern training will enhance the capacity of the newly-integrated policemen to cope with challenges of modern times.
The district police chief said that under the directions of Inspector General Police (IGP) Sanaullah Abbasi and Capital City Police Officer (CCPO) Ahsan Abbas, the process of reforms in Khyber Police is continuing with a rapid pace. He said that the incentives and privileges being offered to police in other districts of KP are now being extended to Khyber Police and now the personnel of merged districts are entitled to all facilities enjoyed by regular police force. He said provision of incentives will improve the performance of police.
The local people hailed the Khyber Police for induction of children of deceased policemen and hoped that the process of reforms would be carried further and its goals will be achieved.
Hits: 1