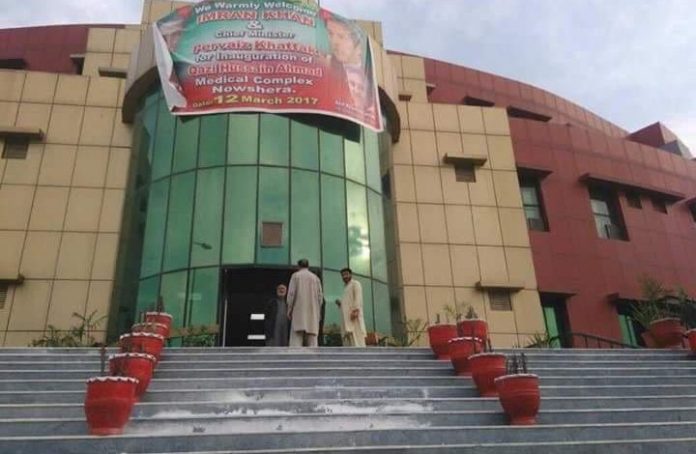 NOWSHERA: An inquiry has been ordered against medical director of Qazi Hussain Ahmed Medical Complex Nowshera over charges of harassing a woman doctor.
According to a notification issued by the hospital administration, the Board of Governors of the hospital has formed a four-member committee to probe complaint of a senior doctor of gynecology department. The committee headed by dean of Bacha Khan Medical College would present its report within five working days.
According to sources, an associate professor of Qazi Hussain Ahmed Medical Complex Nowshera had lodged the complaint through the Chief Minister's Complaint Cell on April 29. In a two-page complaint, the woman doctor had accused the medical director of the hospital of harassment.
The complaint mentioned that the medical director called a meeting at his office on April 29 during which he showed 'indecent' attitude. She alleged that the medical director shouted at her, indulged into unnecessary conversation and also threatened of 'personal monitoring'.
The hospital administration has formed a committee to probe the allegations of the female doctor which would present its findings within five days.
Harassment incidents at workplace are also common, and women face adverse reaction when they raise their voice. It is irony of fate that men always blame women for such incidents and always side with men in such cases.
Naseem Riaz, a social activist, said while talking to TNN that many institutions don't have set up harassment committees. He says many women workers had to leave jobs due to regular harassment.
According to a survey of Aurat Foundation, an NGO working for women's rights, about 90 percent women face harassment at public transport and 82 percent women face different kinds of harassment at bus stops. Harassment tactics include different kinds of inappropriate signals, staring, whistling, inappropriate comments and even touching.
The survey report said most of the women being harassed at public transport are aged between 20 and 29. 62 percent women are harassed by other passengers and 97 percent by drivers and cleaners. The report said regular harassment causes inferiority complex to women and they face difficulties in their jobs and other tasks.
Hits: 1