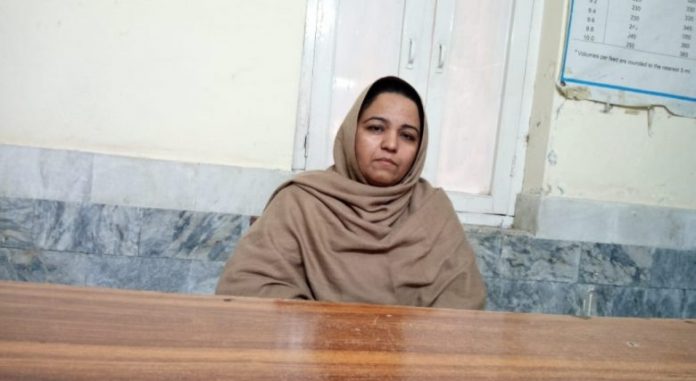 Rifaqatullah Razarwal
"I felt like death was approaching me. My lungs were filled with fluid and I was having extreme difficulty in breathing. I was so certain that my life was about to end".
Miss Nazakat Shaheen was sharing the incident that took place a few months ago. She works as a nurse in charge at Charsadda's Headquarter Hospital. But after contracting Corona Virus, she was shifted to the intensive care unit (ICU) of the hospital.
She wanted to join her hospital duty as a nurse again with more compassion after having a bed rest of two months but her husband was not in the favour as his point was that 'nothing is dearer than life'.
But Nazakat stood her ground saying that: "at such critical times I can't be selfish. The list of Corona patients is getting higher day by day and the number of health staff and nurses are getting lesser with each passing day.
At such times I need to be at the hospital not because as a nurse I'm obliged to fulfil my duty but as a person with some moral responsibility to serve other human beings.
Nazakat said that, "When I contracted the Corona Virus for the first time my condition was very serious. I was on the verge of death but it seems like God gave me another life, as my corona result came negative the next time I tested myself. So I joined the hospital once again in high spirits and continued to serve the patients. I kept shuffling between hospital duties and household chores".
She shared her opinions while giving an interview to  TNN correspondent, for the 'Media for Women' campaign initiated by the organization.
'Media for Women' campaign was started on 1st March, in association with International Women's Day, which is celebrated on 8th March. And this campaign intends on bringing forward the stories of such women who had to go through a lot of difficulties leaving a deep effect on their lives. This year, the theme for International Women's Day is 'Women's Improvement and the Role of Women in Decision Making in Covid-19′, which is set by the United Nations.
Nazakat continues to share that her permanent job was at Charsadda's Hospital, however, in March 2020, the virus of Corona broke out in the entire country, and corona patients started flooding in the major hospitals of the Pakhtunkhwa province.
When due to a sudden increase in the number of patients, the problem of shortage of health staff came to the surface, the Department of Health decided to assign duties of the staff of small hospitals of districts to the cities' big hospitals. That's when I was appointed as a nurse in the city's largest hospital, Lady Reading Hospital.
"Corona Virus is a deadly pandemic. The fear prevailed in the hearts of people all over the world because of which people preferred to stay at home. The hospital's staff, including me, were not much aware of this contagious virus and its deadly effects. There was a shortage of staff as well as the basic health facilities but our hopes did not waver and we kept on working tirelessly".
Nazakat shares that meanwhile Corona Virus had started engulfing other districts as well as Charsadda. That's when I was ordered to take charge back in the Charsadda Hospital where I was working previously.
"When I rejoined the District Headquarter Hospital, I felt a terrible sore throat and I lost my sense of smell. That's when I suspected that I was hit by this fatal virus as well. When the test result came positive I left the hospital and got myself quarantined. I suffered from Corona for two whole months. My lungs had gotten filled with fluids and my condition kept on deteriorating".
Even during the interview with TNN, the patients kept on calling her for assistance and she would help them and come back again to us to share her experience.
She says that when the result of the test came negative at last, instead of taking a bit more rest, the thought of the shortage of staff and her concern for patients compelled her to get into action once again and she started serving Corona patients with the same devotion again.
Upon asking what was her family's reaction during this whole situation, she said, I have two kids and a husband. My husband would ask me to quit the job out of concern for my health but since day one I had aimed to serve people no matter how difficult things get.
Unfortunately, during these arguments with my family, I fell a victim to the Corona Virus once again as all the symptoms started showing up for the second time. But despite this, I kept on taking care of the Covid patients.
Referring to her duty as a mother and housewife, she said that she had the complete support of her husband in this tough time for which she feels very grateful to him.
She further added that when the number of Covid-19 patients started to rise, due to lack of staff our hospital's duty's duration also began to increase. That's when with the consent of her husband she started sharing her household chores with her husband and according to her, that gave her a huge relief.
Regarding social attitude, she said that she had the complete support of her family. The actual mental stress raises only when the hospital management starts harassing you in different ways possible.
"Taking complete care of the patient is possible only when your mind is not preoccupied with stressful thoughts. But here the hospital union members would try to disturb our duty roster and interfere in other matters". Some would assign our duty in one place, others would plan something else for us. So it would become difficult for us to pay full concentration to our duty".
Nazakat said that she worked as a front line worker in the treatment of Covid-19 patients and had to endure and go through a lot of difficulties. If related officials try to solve the problems of people belonging to the health sector, especially female workers, then there's a great chance for women to excel in any field.
Hits: 1