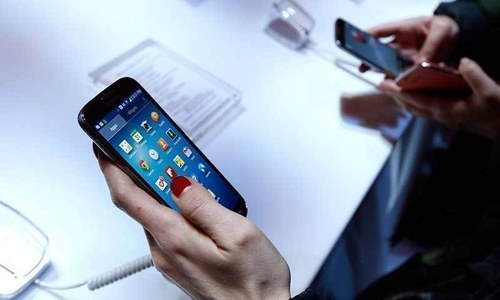 Rifaqatullah Razarwal
Pakistan Telecommunication Authority has restored cellular data service in Kurram district after five years long suspension.
Daud Khan, a journalist told TNN that the locals were eager about restoration of internet services following the PTA announcement.
"They were overjoyed when the data services resumed in the evening after daylong wait," he said.
Mr Khan said that he was happy over the restoration of internet services in upper Kurram. He said in the past when they used to go to the Lower Kurram to do a story, it took them hours to file the story through internet.
Mr Khan said often this long delay would kill the timeliness of the story.
He said that it was only possible to access internet in Parachinar in Upper Kurram and Sadda in Lower Kurram.
"Internet restoration is going to resolve this issue," he said.
Details obtained from the PTA under the Right to Information Act 2013 showed that the authority has restored data services in six out of seven merged districts.
PTA said that the restoration of data services will help residents in fulfilling their educational, health, commerce and communication needs.
The telecom watchdog said that currently work on installation of 50 mobile towers was in progress in different parts of districts. Besides, it said that data services were restored on five mobile towers.
PTA said that the work on installation of towers was suspended in the aftermath of kidnapping of 10 laborers earlier in June this year. Six of the kidnapped laborers were executed.
It said that installation of 50 towers will ensure internet access to all the households of the districts.
Data services restoration to help students
Tara Orakzai, a student and digital media contributor said that she had to relocate with relatives in Sadda Bazaar area to avail online classes during the lockdown.
She said that they were really happy with the restoration of the internet services. "Though signals are weak; however, we are still happy over internet restoration," she said.
Ms Orakzai said that she wrote a blog for her organization soon after the restoration of internet.
"Resumption of data services will connect us with the rest of the world," Ms Orakzai said.
She said that this will help her in studies as well as keeping herself updated about happenings in the world
Besides, the restoration of the internet will also help local students with quality education, she said.
Internet suspension is a violation of human rights
Government had suspended the internet services in the Kurram district in 2016 over security concerns.
However, defense analyst retired brigadier Syed Nazir considers the years' long internet service suspension as violation of human rights.
He said that internet was a means of communication and used with the permission of government.
Regarding internet causing security threats, brigadier Nazir said that often internet services suspended during Muharram processions, political gatherings and meetings.
"At such occasions, security organizations fear about dissemination of videos, pictures and messages that can cause unrest," he said.
Besides he said that there was threat of sharing of information about movement of security forces in sensitive situations, necessitating the internet suspension.
However, he said that it was wrong to keep the internet shut for years on the pretext of security. He said that security institutions can suspend internet during their movement or any other sensitive operation.
Besides, he said that it was wrong to assume that state can stop terrorism or crimes through suspension of internet services. "These days non-state actors have access to state of the art resources as compared to the state," brigadier Nazir added.
Internet as fundamental right
Earlier in April last year, while hearing the petition of National University of Modern Languages student Syed Muhammad, the Islamabad High Court Chief Justice Athar Minaallah had ordered PTA to restore data services in merged districts.
Justice Minallah said that access to internet was fundamental right of every citizen. He also said that Article 19-A of the Constitution guaranteed the citizens' freedom of expression.
However, earlier in June this year, ministry of the interior informed the court that it had prepared a timeline for the restoration of internet.
The ministry said that it has also shared the same timeline with the PTA as well. It said that internet services will be restored by the end of this year in all areas.
However, details gathered by the TNN show that internet services were restored in North Waziristan, Bajaur, Mohmand, Khyber, Orakazai and Kurram districts.
However, data services in South Waziristan were still suspended due to the security threats.
Usama Khilji, director of the Bolo Bhi, which works on the internet freedoms in Pakistan, said that internet was essential for development of a country.
He said that internet helped students in their studies, children in entertainment and elders with health related information.
Mr Khilji said that it was preposterous to link internet with security. However, he added that people can use internet to alert security agencies about terrorism and other threats.
Pakistan Inclusive Internet Index ranking
Pakistan ranks 90 among 120 states in term of availability, affordability, relevance and readiness in 2020.
The report said that 37 per cent of Pakistani males and 19 per cent of females had access to the internet.
Hits: 2