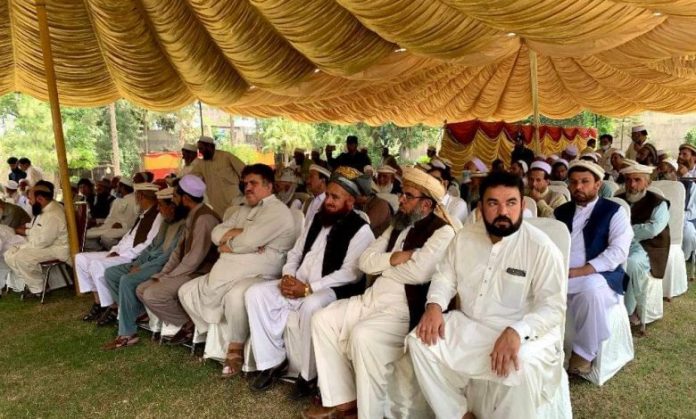 PESHAWAR: The district administrations of Khyber and Orakzai tribal districts Saturday organised a high-level Jirga to resolve the long standing land dispute in a peaceful manner. The Jirga decided to pave the way for ceasefire and its extension till final resolution of the issue.
Land dispute between Akakhel Sanzal tribe of Khyber district and Ferozkhel tribe of Orakzai intensified last week and deaths and injuries were also reported on both sides in clashes. The clashes had disturbed peaceful environment and people were demanding intervention for resolution of the issue to avoid further damages.
In this regard, a Grand Jirga was organised in Khyber House on Saturday which was attended by Deputy Commissioner Khyber Mansoor Arshad, District Police Officer Waseem Riaz, Deputy Commissioner Orakzai Muhammad Khalid, DPO Orakzai Muhammad Nisar, Members of Khyber Pakhtunkhwa Assembly Muhammad Shafiq Afridi, Ghazi Ghazan Jamal, Assistant Commissioner Bara Nek Muhammad, Assistant Commissioner Orakzai Naveedullah Shah, tribal elders and other people.
The Jirga discussed in detail the ceasefire (Tiga) between the two rival tribes, strategy for the next meeting of the Jirga, terms of reference and other issues related to the dispute. After detailed discussions, tribal elders and Jirga members agreed to form a 10-member committee which along with the administration and police officials will visit the site of the disputed land. The administration and police officials from both tribal districts will be present during the visit to make sure that unanimous observations are made and the issue is resolved on permanent basis.
The committee members are mandated to take note of the allegations made by both rival parties on each other. They will monitor the situation on both sides of the positions taken by the rival tribes members and inform the respective district administrations and police about the actual situation on ground. The recommendations of the committee members will be discussed in the next meeting of the Jirga during which both tribes would be convinced to extend the ceasefire. The Jirga members will persuade elders from both tribes to agree to a solution to the long standing dispute to avoid further damages. The Jirga members said they are hopeful that they would find a solution to the dispute.
Hits: 2