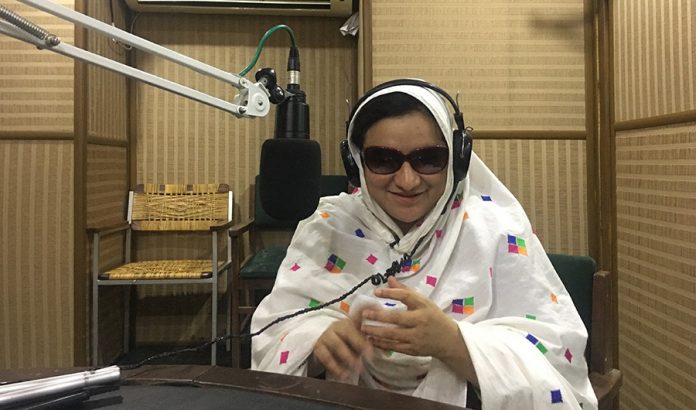 Salman Yousafzai
PESHAWAR: Rehana Gul went to a radio station to help her friend record a promo where her voice was liked by everyone so much that she got a job there and became the first visually impaired woman to become a radio jockey (RJ) in Khyber Pakhtunkhwa.
Rehana Gul, who works at FM radio station 92.2, said in an interview on the occasion of World Radio Day that she has not allowed her visual impairment to become a hurdle in making her abilities known to the people and she has not become the voice of visually impaired people on radio.
Childhood passion
Rehana Gul, 28, told TNN that she invites differently-abled people to her program 'Mashalona' to share their stories and highlight their problems.
Rehana says that due to visual impairment, she had to depend on her power to hear to carry out most of her functions. She says she became fond of listening to radio programs from her childhood. She says after joining radio, a thought of making programs on differently-abled persons came to her mind and it was immediately approved by the station master.
"Initially I faced difficulties in writing Pashto script for my program, but I learned gradually," she said.
Rehana says she works as a free lancer and gets Rs8,000 for one program from Pakhtunkhwa Radio. However, she says, tax deduction makes her remuneration insufficient to meet her expenses. She says problems of visually-impaired workers can be reduced if the government provides them permanent jobs. She says she wants to convey to differently-abled persons not to lose courage and believe in their capabilities as nothing is impossible in this world.
Basic introduction
Rehana Gul was born in Shergarh area of Mardan. She had visual impairment by birth. At the age of six, her parents took her to Rawalpindi, where doctors told them that she may never be able to see the world with her own eyes throughout her life. She was admitted to a school for special children in Shamsabad. She got her initial education from the same school and got admission in criminology department of the University of Peshawar. She now aims to do PhD.
Rehana says her three brothers were also visually-impaired. Her two elder brothers have died, while her younger brother is alive.
Differently-abled persons more autonomous in Punjab?
Rehana says she has spent 15 years in Punjab and feels that differently-abled persons are more autonomous as they get more jobs in government and private institutions. She says job opportunities for differently-abled persons in KP are scarce due to lack of awareness about this important issue.
World Radio Day
In her message on the occasion of World Radio Day, Rehana says most areas of KP are deprived on internet facility and information mostly reaches them through radio. She says women in Pakhtun society lack access to mobile phones, therefore, they listen to radio programs more than men. She says women can learn a lot and play role in development of society if informative programs are broadcast through radio.
Hits: 0