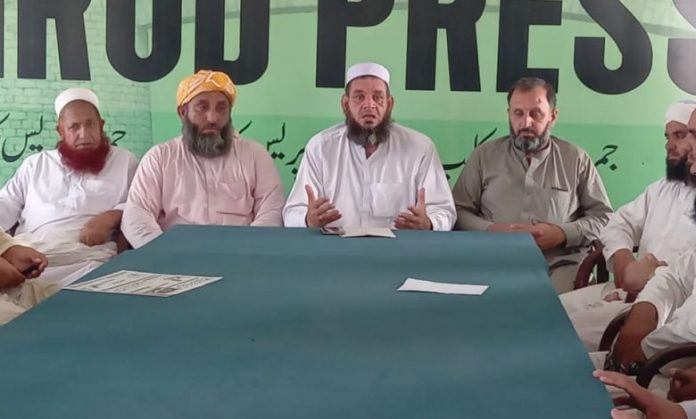 JAMRUD: The leadership of Jamiat Ulema-e-Islam-Fazl (JUI-F) in Khyber tribal district has raised objections over no appointment of teachers on different district cadre posts even after holding of tests by Educational Testing and Evaluation Agency (ETEA).
They also took strong exception to appointment and transfer of non-locals on teaching posts in Khyber district which they termed injustice with local highly educated youth. They said ignoring the locals and appointing non-locals on teaching posts in merged tribal districts tantamount to robbing the local youth of their rights.
Addressing a press conference at Jamrud Press Club on Thursday, the JUI-F district general secretary Syed Kabir, district deputy finance secretary Haji Umar Nasir, ameer for Jamrud Maulana Gul Nawaz, Maulana Zahoor and other leaders said the Khyber Pakhtunkhwa Elementary and Secondary Education Department must appoint teachers on vacant seats in Khyber district without further delay. They also demanded the government to immediately stop appointment and transfer of non-locals on teaching and non-teaching staff.
The JUI-F leaders said the inquiry report against a principal of a girls college on alleged violation of discipline must also be made public. They alleged that the videos made in the college went viral which is against local traditions. They said the principal of the college must face departmental action and she must be expelled from Khyber district.
The JUI-F leaders also condemned appointment of non-locals in Khyber Health Department and demanded the local officials to take action. They warned that they would launch protests and lock government offices if the government continued ignoring their demands. They said the final strategy about protests would be discussed in the mega meeting of the JUI-F leaders on Friday.
The government had issued a notification of appointment of 481 nurses in Health Department in merged districts under the Accelerated Implementation Program and it has emerged that 452 among these are non-locals.
This development is drawing sharp criticism from merged districts as only 29 locals have been appointed on posts meant for merged districts. The local people said it is a matter of great disappointment that the members of National and KP Assembly from merged districts don't raise their voice over the issue.