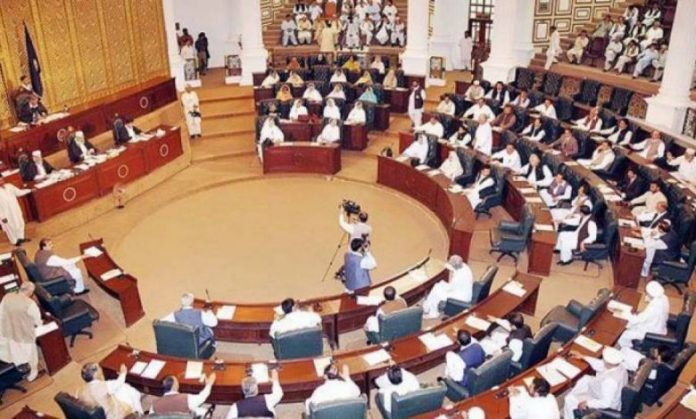 PESHAWAR: The Khyber Pakhtunkhwa Assembly Tuesday passed "The KP Employees Social Security Bill, 2021" to ensure safety and protection of workers.
Minister for Labour and Culture Shaukat Yousafzai moved the bill in the assembly session chaired by Speaker Mushtaq Ahmad Ghani.
The bill states that the workers were instrumental in national development and economic growth. They were the real producers of goods and services which were at the end to consumed or used by the general public.
"It is the duty of the state to ensure safety and protection of workers. For this purpose the state has taken various steps through both legislative and administrative means," reads the bill.
The bill said the employees and their dependents have the right to various benefits under the social security program such as sickness, maternity benefits, employment injury, death compensation and other benefits.
The KP Sentencing Bill, 2021 was deferred for further discussion by the House. The bill was about laying down factors to be considered by courts while passing sentence to improve consistency in sentencing. The bill stated that the provisions of this law would be applicable in cases where a time range of imprisonment is a punishment.
The Khyber Pakhtunkhwa Shops and Establishment (Amendment) Bill, 2021, KP Universities (Amendment) Bill, 2021 and KP Centre for Excellence on Countering Violent Extremism Bill, 2021 were tabled in House by Minister for Labour Shaukat Ali Yousafzai for discussion.
Speaker Mushtaq Ghani adjourned the proceedings till Friday.
Day care centre
The KP Assembly has established a day care centre for providing better environment to infants and children of female members of provincial assembly.
Chairperson Women Parliamentary Caucus Dr Sumera Shams thanked Chief Minister Mahmood Khan and Speaker Mushtaq Ghani for their cooperation and providing space and equipment for establishing day care centre at the provincial assembly which would provide relief to the women lawmakers with children.
Sumera Shams said that long standing demand of women lawmakers has been fulfilled, adding such day care facilities would be opened at Civil Secretariat and other departments of the provincial government to provide better shelter and safe environment to infants and working women.