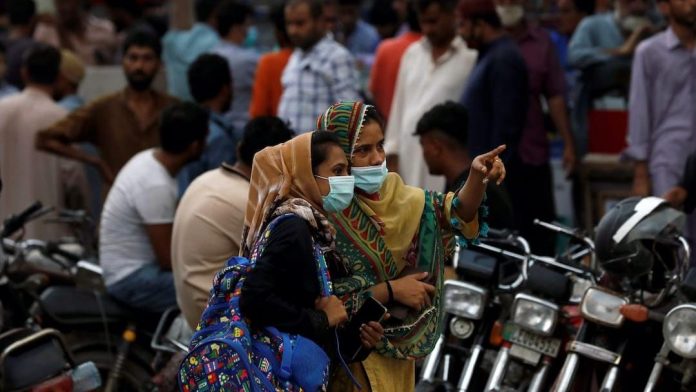 PESHAWAR: The Khyber Pakhtunkhwa government has issued new directions with enhanced restrictions for nine districts of the province to curtail spread of coronavirus.
According to a notification of the provincial government, directions regarding stricter restrictions were issued for Nowshera, Swabi, Mardan, Upper Chitral, Lower Chitral, Mansehra, Kohat, Karak and Dera Ismail Khan from August 23 till further orders.
Under the new directions, all commercial activities would be closed by 8:00pm except medical stores, tandoor, milk shops and hotels outdoor dining up to 10:00pm, and for takes aways for 24/7. All types of commercial activities (markets) would completely be closed on two consecutive days as per the instructions of district administration.
All petrol pumps, milk shops, tandoors, tyre puncher shops, agriculture machineries shops would remain open for 24/7. All public and private offices would observe their respective normal office timings following the policy of 50 percent attendance of staff.
According to latest official data, the total death toll from coronavirus in Pakistan stands at 24,713 with 7.8 percent positivity ratio.
On Thursday, 74 more deaths were reported from coronavirus infection, and 4,373 new positive cases were reported in the country. According to the National Command and Operation Center (NCOC), 55,634 tests were conducted during the last 24 hours.
In KP, 13.6 percent coronavirus positivity ratio was reported in Abbottabad and 13.5 per cent in Peshawar two days ago.
The NCOC has been asking the Health Department to take care of the high-risk districts and ensure adherence to standard operating procedures (SOPs) as well as increase vaccination.
Pakistan is reporting 4,130 new infections on average each day, 70 percent of the peak — the highest daily average reported on June 17.
As far as vaccination is concerned, Pakistan has so far administered at least 44,322,217 doses of corona vaccines so far. Assuming every person needs two doses, that's enough to have vaccinated about 10.2 percent of the country's population.
During the last week, Pakistan averaged about 764,855 doses administered each day. At that rate, it will take a further 57 days to administer enough doses for another 10 percent of the population. Vaccination has been declared mandatory for all important tasks in the country.