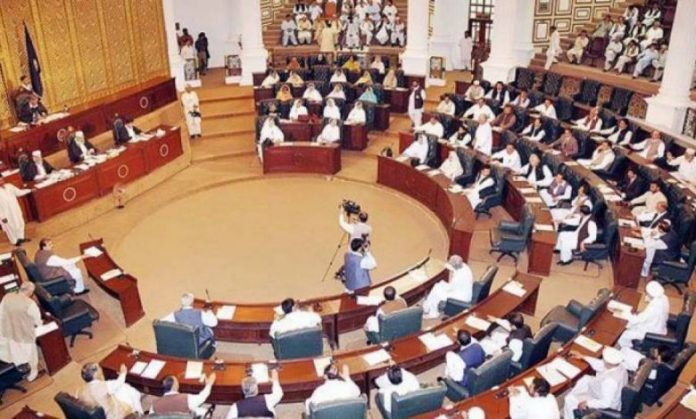 PESHAWAR: The Khyber Pakhtunkhwa government Friday presented the annual budget for the fiscal year 2021-22 with a total outlay of Rs1,118.3 billion, with a record allocation of Rs371 billion for annual development program (ADP) and Rs747.3 billion for current budget expenditure.
According to the budget document, the KP government has announced a record 37 percent increase in salaries of all those employees who did not take special allowances from government.
The salaries of all government employees except those who didn't get special allowances are being increased to 37%, including 20% increase in Functional or Sectoral Allowance, 10% increase in Adhoc Relief Allowance, 7% in house rent for those employees who don't benefit from government's accommodation scheme.
Rs199.3b allocated merged districts
KP Finance Minister Taimur Salim Jhagra while presenting the budget in KP Assembly said Rs919 billion have been allocated for settled districts, and Rs199.3 billion for development of merged tribal districts during FY 2021-22. Out of total Rs371 billion ADP, Rs270.7 billion have been earmarked for settled districts and Rs100.3 billion for merged districts.
The minister said present budget was based on five main pillars including a record increase in salaries of government employees, development budget, devoted services to people, increasing KP's own resource revenue and introduction of goal-oriented reforms and innovation in the overall governance system.
Rs92.1b to be utilized for pensions
About generation of income and revenue during 2021-22, Mr Jhagra said Rs1018 billion revenue and income target was set for FY 2021-22 that would be achieved from different financial resources, duties and taxes. He said Rs92.1 billion would be utilized for payment of pensions — Rs0.1billion for merged areas and Rs92billion for settled districts.
Besides salaries, Rs203.9billion would be spent for operation and maintenance expenditures, emergencies and district expenses including Rs38.9billion for merged areas and Rs164.9 billion while Rs74.4billion for other current expenditures.
Rs142b allocated for health
The KP government has provided health insurance of up to Rs1 million per year to around 40 million people through Sehat Insaf Card. The provincial government has allocated Rs142 billion for health sector for the next fiscal to provide best possible health cover to its people.
Rs2.5b earmarked for Science and Technology
The finance minister said the KP government has made a historic increase of 137 percent for the promotion of Science and Technology by allocating Rs2.5 billion in the FY 2020-21.
The steps for promotion of Information Technology include citizen facilitation centres in the merged districts, supporting entrepreneurial ecosystem through Durshal program, early age programming for children of government schools, enhancing industrial competitiveness and innovation and model science laboratories in merged districts.
Rs13.2b to be spent on agriculture sector
The provincial government would spend Rs13.2 billion as developmental expenditures in agriculture sector during next fiscal year.
The amount would be spent on various agriculture sectors development programmes including promotion of olive plantation in merged districts, poverty alleviation through development of poultry sector, establishment of trout villages in Hazara and Malakand Division.
KP govt to construct, rehabilitate 2,100 schools
The minister said the KP government will construct, rehabilitate and upgrade over 2100 schools to increase enrolment capacity in public sector schools by 120,000.
According to budget documents, the provincial government will recruit 20,000 teachers and 3,000 school leaders for Elementary and Secondary Education. In the newly merged districts, the government will provide equipment to 97 IT labs, construct 276 science laboratories and recruit 4,300 teachers.