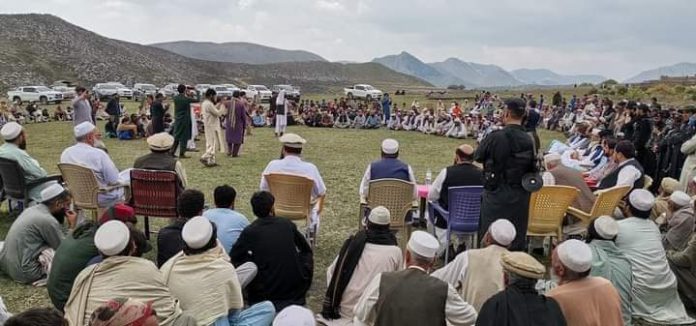 TIRAH: The long standing dispute over demarcation of land between Akakhel tribe of Khyber tribal district and Bezot tribe of Orakzai district was finally resolved on Saturday.
The 40-year-old dispute came to an end as land was demarcated at the disputed area of Tirah, Shadla with the efforts of tribal elders. TNN correspondent reported that a joint Jirga of Bezot and Akakhel tribes was organised in Akakhel area of Tirah on Saturday which was attended by hundreds of tribal elders and other people from both tribes.
Akakhel Qaumi Council head Haji Khial Zaman on the occasion announced an end to the demarcation dispute of Shadla area, which was supported by the elders of Bezot tribe. After agreement by both tribes on the devised formula, the land demarcation was carried out and in this way a long standing dispute came to an end in a peaceful manner.
The people of merged tribal districts have expressed happiness over peaceful resolution of the issue and hoped that other land disputes in the area will also be resolved through talks.
The dispute was continuing between the two tribes in which several people from both tribes had lost their lives and many others were injured.
The latest tension between the two tribes peaked in May last year after murder of two persons from Akakhel tribe in Lashkar Kashi (armed attack) of Bezot tribe in Shadalay area of Tirah valley.
The people of Akakhel tribe had strongly condemned the killing of two members of the tribe by Bezot tribe during a mob armed attack. Many of them vowed to avenge the killings and the situation in the area remains tense.
Akakhel elder and Pakistan People's Party (PPP) leader Haji Sohail Ahmed had alleged that Bezot tribe has challenged the honour of the whole Afridi tribe by arresting two peaceful people and then killing them mercilessly over a land dispute.
On the other hand, Bezot tribe alleged that Akakhel tribesmen had attacked their area to confiscate their lands in Shandalay Waran area. They said Akakhel tribesmen resorted to indiscriminate fire while attacking their lands, and two of them were killed in retaliatory fire by Bezot tribesmen.
Bezot tribesmen said the land dispute between the two tribes was long standing, but attack by Akakhel tribe was unfortunate which also resulted in loss of lives.
Hits: 1