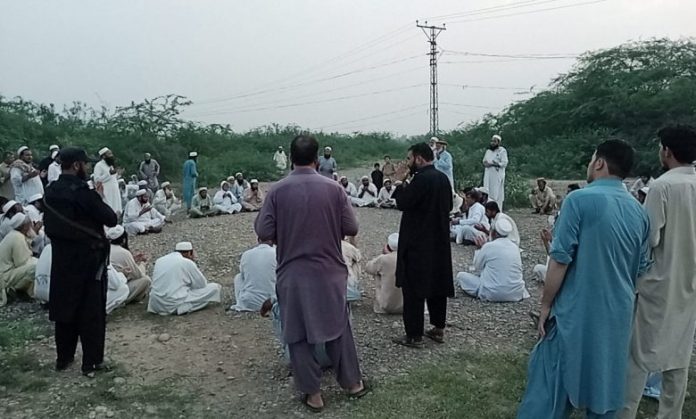 BARA: The land dispute between two sub-tribes in Akakhel area of Bara sub-division in Khyber tribal district has resurfaced as the deadline for ceasefire expired and negotiations by the reconciliatory Jirga failed to bring any breakthrough.
Three sub-tribes of Akakhel tribe are now devising a strategy for stopping construction work on the site of the disputed land. With the intervention of the local administration and tribal elders, Tiga (ceasefire under local traditions) was announced between the rival groups. However, no positive development was made during the negotiations, and the deadline expired, after which there is a threat of more clashes over the issue.
Local sources said Qari Hayatullah from Zakhakhel tribe has initiated construction work on a land near Frontier Road in Akakhel. The Akakhel tribesmen tried to forcibly stop the construction work on the claim that the land belongs to sub-tribes Mirghatkhel, Maroofkhel and Sherkhel. A Jirga of local elders was constituted to find a solution to the problem. During the Jirga meetings, the rival groups traded allegations against each other.
The guarantors from both sides urged the rival parties to observe restraint and give a chance to elders to resolve the issue with talks. The Akakhel elders said they had some reservations which were not addressed, therefore, they cannot participate in further talks.
Qari Hayat is of the view that he had purchased the land from Mukaram Qambarkhel one year ago who had purchased this land from Akakhel tribesmen 30 years ago. He said the elders had sold this land at a time when its value was very low, but now when the land prices are up, the young generation have started making claims that the land was not sold. He alleged that the new generation of the Akakhel elders is behaving like land mafia.
Qari Hayat said he is prepared for any kind of talks under the tribal traditions. However, he said, he would never tolerate violence, and in case of any such eventuality, the responsibility will rest with the administration.
On the other hand, the sub-tribes of Akakhel tribe claim that the land belongs to them since generations. They claimed that their land has been occupied and the case is also being heard in a court.