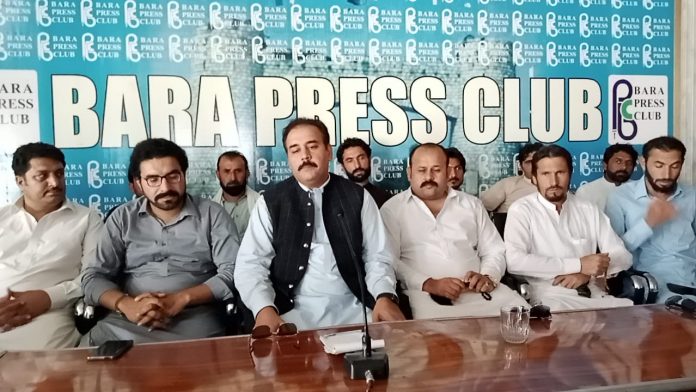 BARA: Member Khyber Pakhtunkhwa Assembly from the ruling Pakistan Tehreek-e-Insaf (PTI) Naseerullah Khan Wazir, who has launched a reforms movement, says land reforms are inevitable in erstwhile Fata after merger with KP.
Addressing a press conference along with other colleagues of the reforms movement at Bara Press Club in Khyber tribal district on Saturday, Naseerullah Khan Wazir said prices of land have gone up in tribal district after merger with KP which has given rise to several land disputes. He said the government should pay serious attention to these land disputes as the situation in this regard is worsening with passage of time.
The ruling party lawmaker said appointment of ladies police is also the need of hour to ensure law and order in merged districts. He said this is imperative to maintain the honour and dignity of the local residents and sanctity of houses. He said that despite merger with KP, the tribal districts are not developing at the desired pace. He said the members of National Assembly and KP Assembly, with the help of civil society and media should work for swift development of the area.
Naseerullah Wazir made it clear that they won't support the pre-merger system, but want to see improvement in the situation and actual reforms after the merger. He said the Jirga system must be strengthen and work should be accelerated on restoration of educational institutions and solution of other problems of people.
The lawmaker said the government must set up a powerful commission to resolve the land demarcation disputes in merged districts.
Naseerullah Wazir has launched a reforms movement resolve the land disputes and persuade the government to bring reforms in police, judicial, education and healthcare system.
After forming the movement, Naseerullah Khan Wazir said during his visit to Bannu that the police system must be strengthened and writ of the government must be established in true letter and spirit. He said the Levies and Khassadar personnel must be given equal incentives like the personnel of KP Police. He said it is wrong to put all the blame of problems in merged districts on the ruling party. He said he has decided to convey the problems of people to the higher authorities in an organised manner.
Hits: 1