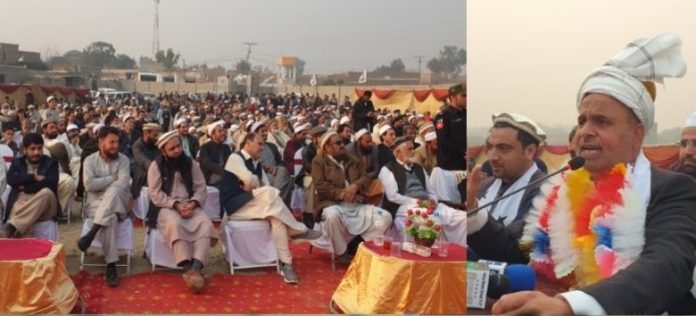 JAMRUD: Former member of the National Assembly Al-Haaj Shah Jee Gul Afridi has said those raising the slogan of 'Lar o Bar' are conspiring against the country.
"I don't mean that only we are Pakhtuns and they aren't, but everyone knows their intentions and it is very clear that people with these slogans are not patriotic," Shah Jee Gul said while addressing a public meeting in Nai Abadi in Jamrud tehsil of Khyber tribal district on Sunday.
The former lawmaker said the people of merged districts will foil the internal and external conspiracies. He said his party is opposing the government just because its failed policies have caused massive loss to the national economy. He said the rulers should quit the government if they don't have the capability to take the country out of economic crisis.
Shah Jee said the true representatives of people must come to power through a transparent election, which is the only way to set the country on path of development and prosperity again.
The former lawmaker thanked the people from Mustajab family to support Al-Haaj Karavan and said the party's two members of Khyber Pakhtunkhwa Assembly Shafiq Sher Afridi and Bilawal Afridi will work their heart out for development of their constituencies in Khyber tribal district. He said these lawmakers are continuously raising their voice for the rights of people from the flood of the KP Assembly. He said Al-Haaj Caravan will continue to serve the people with dedication. He said no one will be allowed to usurp the rights of people of Khyber tribal district. He said no comprise would be made on unity among Pakhtuns which is the basic prerequisite for development.
On the other hand, the Pakhtun Students Federation Khyber leaders have said they will never dissociate from the slogan.
At a seminar, they said efforts for the rights of Pakhtuns will continue. They said the movement for the rights of Pakhtuns is totally peaceful and there is no place for negative elements. They said that the opponents of the movement are indulging into negative propaganda. They said the struggle for the rights of Pakhtuns will continue.
Hits: 0