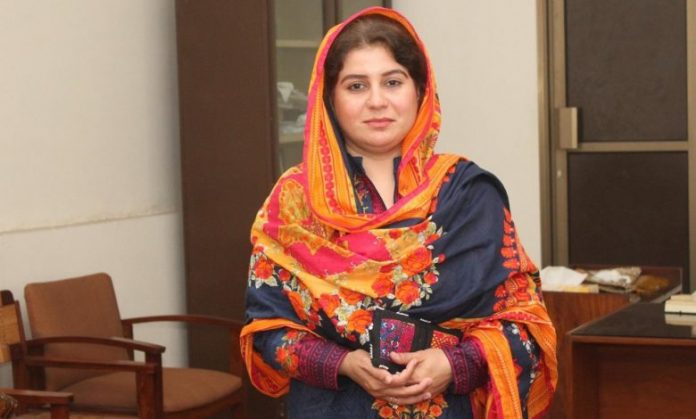 Khalida Niaz
PESHAWAR: "One thing I had reservations about in the Domestic Violence Bill was that, 'if a woman could not prove violence in court, she would pay a fine of Rs50,000.' I shared this amendment to show how on earth it is possible for a woman in the society that we are living in, to prove violence in the court."
This was shared by Shagufta Malik, a member of the provincial assembly from the Awami National Party (ANP). In an exclusive interview with TNN, Shagufta Malik, referring to the Domestic Violence Bill passed in Khyber Pakhtunkhwa, said that it was very crucial to pass it in the province as there is a lot of violence against women but unfortunately, we didn't see any law for it.
Shagufta Malik said we see that there are laws in other provinces regarding domestic violence, but the bill was delayed in Khyber Pakhtunkhwa, for no apparent reason, for many years. But the rest of the women MPAs including herself did not give up on the idea of raising voice against it, and finally, after having gone through a lot of difficulties, the bill was passed.
Fine for women if violence not proved
Shagufta Malik said she has worked on this bill for almost seven years.
"I myself was in the Women's Commission and I have done a lot for this bill to he passed, in the Women's Commission. There was a PTI government previously that was not interested about this matter. They did not want this bill to pass, hence they sent it to the Council of Islamic Ideology (CII) where it was rejected for no apparent reason. Then we did a lot of work on it and kept on requesting the government time and again," she said.
Both inside and outside the Assembly, she said the effort behind all this was to get the bill into the Assembly as soon as possible and get it passed. "Then when we forced them and got it passed by the cabinet, the government still did not want to pass the bill, but we didn't give up and managed its passage at last."
Shagufta shared that a member of Jamaat-e-Islami requested for the bill to be passed and asked it to be brought in the Assembly, but she was told to send the bill back to the Council. She said the main reason was that they still had a few reservations as there were a few things in it that could harm women instead of benefiting them, such as enforcing a fine of Rs50,000.
Mental stress causer greater harm than physical abuse
Shagufta Malik said that on the issue of fines, the women parliamentarians objected that this is a women's bill with the sole purpose of providing them with security but you have the audacity to make them pay, in a bill that was proposed for their safety. So, that's how the government agreed with them at the end.
Shagufta Malik further said that in addition to all that, the bill says that it is not necessary that every scar of violence must be seen on the body. And besides, psychological stress is greater than physical violence. "We asked them to include all this in the said bill."
The ANP MPA also said that under the bill, the committee they elected did not have women representation at the community level or the grassroots level, so they altered it to include women's representation. It is more significant to include women because when an objection comes to surface, only a woman who has gone through physical violence can better understand the case of other women.
She has shared hope that the bill will bring a massive difference, especially to men who consider and treat women as their subordinates. When they find out that violence against women is a crime and they will be punished or fined by now, it will cut down the chances of violence. But in order to aware people regarding this law, it is very important that people must know about it because most of the laws are passed but the people are not aware of it.
About Domestic Violence Bill
The KP Assembly passed a bill in January this year to prevent domestic violence against women, under which a person who commits violence against women will be sentenced to five years imprisonment. The bill clearly states that economic, psychological and sexual pressure will also fall into the category of violence against women. Moreover, a district protection committee will be set up under the bill, which will provide medical assistance, shelter and assistance to the affected woman.
According to the bill, a helpline will be set up for reporting incidents of domestic violence. An application will be submitted to the court within 15 days and the court will be bound to give its verdict in two months. The bill also carries a one-year jail term and a fine of up to Rs300,000 for violating the court order.