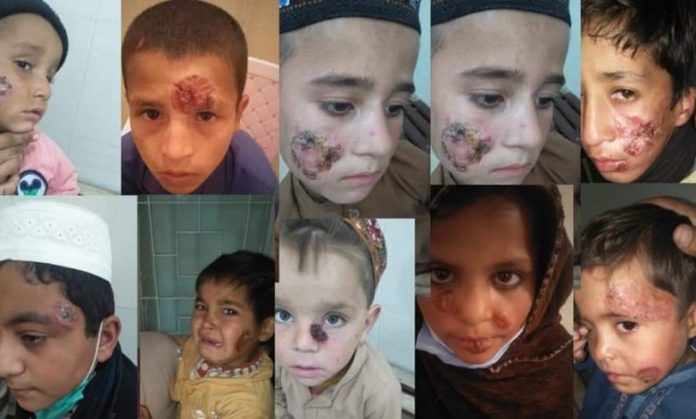 LANDIKOTAL: Dozens of children have been infected from leishmania in Landikotal tehsil of Khyber tribal district, while shortage of injections for treatment in the District Headquarters Hospital has further complicated the situation.
The stock of injections for treatment of leishmania in District Headquarters Hospital has exhausted for the last two weeks due to which the patients and their attendants are facing difficulties. Hospital sources said 400 patients are already registered, while 80 more cases, mostly children, have also been reported. The sources said the Health Department has been informed about non-availability of medicine.
The relatives of leishmania patients have called upon the Khyber Pakhtunkhwa Health Department to immediately provide injections for treatment to the disease to end their difficulties.
Leishmania or leishmaniasis is a vector-borne disease that spreads through sandflies. There are three main types of the disease: visceral, which is the most serious form; cutaneous, the most common; and mucocutaneous, relatively rare.
The disease is caused by leishmania parasites which are transmitted by the bite of infected female sandflies, according to the World Health organization (WHO). Most people infected by the parasite, however, never develop any symptoms.
The treatment includes administering drugs called pentavalent anti-monials through IV or IM injections.
Experts warn that the monsoon season will bring about a rise in leishmaniasis as well as malaria and dengue. According to media reports, more than 30,000 leishmania cases were reported in Khyber Pakhtunkhwa. Due to the looming threat of the disease, there is a need to improve awareness level of people. During last year, the shortage of leishmania injections had created problems. Experts say this year the availability of injections must be ensured to avoid the recurrence of similar situation.
In February, dozens of people were affected from leishmania in Saida Shah area of Charmang tehsil in Bajaur tribal district.
According to officials of the Health Department, the affected people also include women and children. The local people said leishmania had affected the entire area. They said about 140 people were affected from the disease. The local people said leishmania was on the rise in the area due to lack of fumigation by the local administration.
Hits: 1