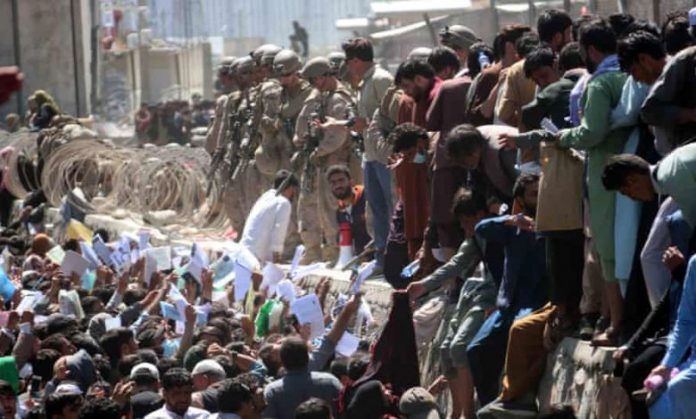 Khalida Niaz
PESHAWAR: It is important to have a sound sleep after having a busy day at office to be ready for the assignments next day. I was also trying to do the same while going to bed after arriving home at 9:00pm from office when I opened WhatsApp and was shocked to see pictures of victims of Kabul Airport blasts.
The bodies of victims littered in blood were lying all over the place. The victims seemed to be asking a question from rest of humanity what was their sin, and for what reason they were killed so brutally?
Fear and panic has gripped the entire neighbouring country since the Taliban took over power and thousands of people are trying to flee. Kabul Airport has become the centre of attention for the last few days as most people are reaching there in a hope to get a chance to get out of the country.
Every person naturally loves his/her country, but Afghans are so tired of war that they have no more patience and endurance to lift more bodies. However, the innocent people trying to find a new life while escaping from the country did not know that death was waiting for them at the airport despite having fool-proof security arrangements.
In a picture, I saw a woman and a girl, both crying with their clothes stained with blood. It appeared that they had lost some loved ones in the blasts. It is impossible to come to terms with the fact that someone loses loved ones for no fault.
Still tens of thousands of people are hoping to leave Afghanistan and start a new life where there is no war, blood and dead bodies. I lost my sleep after seeing that pictures and the flash back of these pictures kept rotating in my mind. I just thought what would be the condition of those who have lost their loved ones.
The scenes at Kabul Airport are top trend on the social media for the last few days. People have witnessed such scenes which were seen never before. One of these scenes was clinging of people on a US military plane and then their fall to death.
Innocent people are being killed in the war of gaining power. Afghans had too much of war, and this bloodshed must stop now. Afghans are also human beings, and they are entitled to all rights, including the basic right to live.