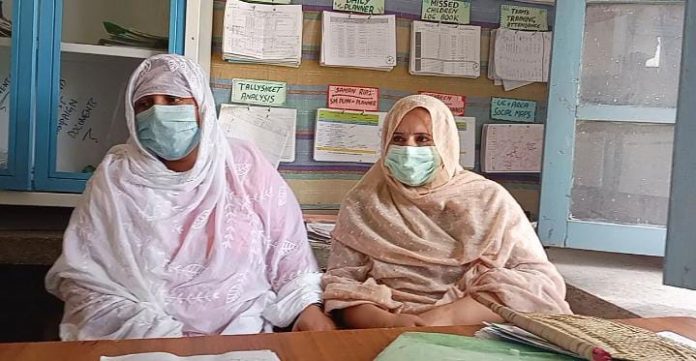 Rifaqatullah Razarwal
PESHAWAR: A lady health worker (LHW) has accused an official of the Health Department Charsadda and his wife of harassment, while the couple has rejected the allegations.
The LHW at Daulatpura Basic Health Unit (BHU) Fehmida has alleged that the Health Department driver Muhammad Saeed seeks sexual favours from her and other female colleagues. She said the driver was sacked from his job over similar charges, but he was restored after he took relief from a court. She said she was earlier silent over the issue for the fear of losing her job, but now she has gathered courage to name and shame him.
Other female workers at the BHU also made similar allegations against the driver and said he also participates in women's functions without invitation.
Another LHW Shehla Naz said Saeed's wife Tehmida is a supervisor in BHU Daulatpura. She said when women make phone call to supervisor, her husband picks up the phone and tries to speak with women. She alleged that the driver had also sent indecent messages to a female worker at the BHU.
Saeed has rejected the allegations, and said he and his wife are being targeted just because his wife, being a supervisor, asked her sub-ordinates to perform their duty with honesty.
After emergence of allegations, the area people also staged a protest against the couple and demanded their expulsion from the area.
Janas Khan, a 65-year-old protester, alleged that this driver had sexually assaulted a woman over which he was sacked, but he got relief in the court due to non-following of the case in the court by the other party.
Saeed's wife said she is a supervisor and she wants her staff to perform duties with dedication and serve the masses for which they are being paid, but they want to do duty according to their own choice, and now they are indulging into allegations mongering.
The Health Department has taken notice of the matter, and directed the couple to report to the department. Alternative staff will be provided at Daulatpura BHU till the resolution of the issue.
According to women protection law, a woman can approach Provincial Ombudsperson with a complaint in case of harassment. An accused may lose his job in case the charges are proven against him.
Hits: 0